Celebrity Gambling – Not Like the Movies! [Infographic]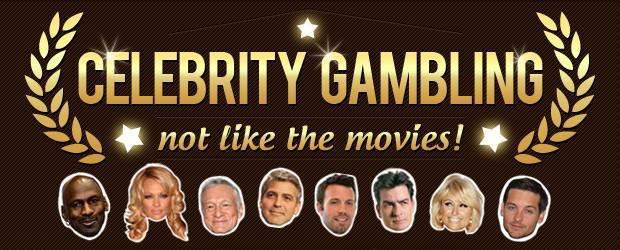 There are the regular, the mere mortal gamblers like you and me, and then there are the celebrities! Those who wager in style arriving at the casino in limousines, wearing Louboutin heels while they strut their way to the nearest roulette table, or swearing and throwing punches at any paparazzi trying to catch the stars' worst angle.
Although you and I probably enjoy a couple of tables, a few rounds at the slot machines, a gin tonic (or two) and take our losses/winnings home with us, there are those who gamble like there's no tomorrow. Today we bring you "Gambling Celebrities – Not like the movies" a New Infographic with a succulent list of gambling athletes, socialites, actors, A-listers, B-listers, No-listers and obviously one hot beach blonde to spice things up. Trust me. Gambling with celebrities is NOTHING like you see in the movies (not that I've ever done it, except for one guy I gambled with who almost convinced me he was Danny Ocean). You'll suddenly appreciate going to bingo nights with mom, or hitting the casino once a year with your boyfriend for your anniversary on a $100 bankroll.
Whew… that was a long list! Share it with your friends on Facebook and Twitter; let them know why they should be thankful they go with you to the casino and end up back home safe and sound. You guys may not be all glitz and glamour but hey, at least they don't have to spend their next poker evening trying to bail out a has-been celeb turned casino brawler.
Embed this Image on Your Site:
PS: Let us know if we missed someone and why you think they should be on this Celebrity Infographic –there's always someone else out there getting banned from some other casino in the world and we all should know about it!