Show Us Your Love – Valentine's Contest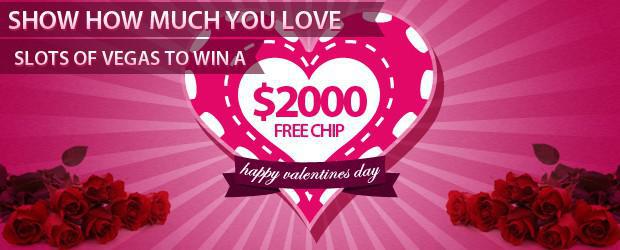 Tweet
We are very lucky to have found so many incredibly awesome players that truly love Slots of Vegas. We are so happy about this that we have decided to give you guys some love in return, but we need to know exactly how much you love us…
From February 2nd to February 9th, 2012 all Slots of Vegas players can submit a small token of their appreciation. On February 9th, the Slots of Vegas team will choose the best 10 submissions and we will publish them on a Blog post right here for everyone to vote. Then it is your job to get as many votes as possible until February 14th, 2012 at 11:59 am EST.
We will announce the winner on that date during the afternoon. The winner will receive a $2000 FREE CHIP to play with all of Slots and Keno.
Submit a love letter, e-card, photo or video to the Slots of Vegas Blog telling us why you love us so much and you could win a $2,000 FREE CHIP!
You can submit your love declaration until February 8th at midnight EST. Slots of Vegas' staff will choose our 10 favorite posts and give them the chance to get that $2,000 chip. If your post is one of the TEN MOST LOVED, you have a chance at that $2,000 free chip. The post with the most likes, WINS!
How to Play
Participating in this contest is really easy, here's what you have to do:
Read the rules.
Create your love declaration (video, e-card, photo or letter.
Upload your declaration along with your username on this blog post as a comment.
If you make it to the TEN MOST LOVED, share your declaration with your friends and get as many votes from them as you can to win.
Important Rules
Only submissions made on Slots of Vegas Blog will be accepted. Submissions via email, Facebook wall, chat or any other type of communication are not eligible.
Username must be included on your blog comment; comments that don't comply with this rule can't be taken into consideration for the contest.
The Slots of Vegas team will choose the TOP10 submissions and those will be published for voting at the Slots of Vegas Blog.
Voting will take place after the TOP10 have been announced on February 9th until February 14th, 2012. Only votes casted during this time frame will be accepted.
Contest ends on February 14th, 2012 at midday EST. Winner will be announced after voting closes.
Only one entry per person. If a user makes multiple submissions only the first submission will be taken into consideration.
In the case of a tie, the winner will be chosen by Slots of Vegas Team members.
No two free chips in a row are allowed. If your last transaction was a chip, you are required to make a deposit prior to receiving a new chip.
No free chips may be awarded while a member has a pending withdrawal. Slots of Vegas will hold and honor the chip for up to 30 days after the chip has been earned.
Free Chip Terms
$2000 free chip
Valid on Slots and Keno Only
30x Playthrough
$100 min/$2000 Max Cash-Out Amount
Tweet