Your Favorite Games: Valentine's Contest Winners

Tweet
We are thrilled to announce the winner of the Poem Contest where you all sent us the most creative and loving poems dedicated to your favorite casino game. Choosing the winner was very difficult, since you guys sent us the greatest poems.
Check out the album with all of the poems that you sent us. Right that it was a tough choice? The winner of the poem won a $1,000 free chip and her name is Cynthia Carroll. Her winning poem is: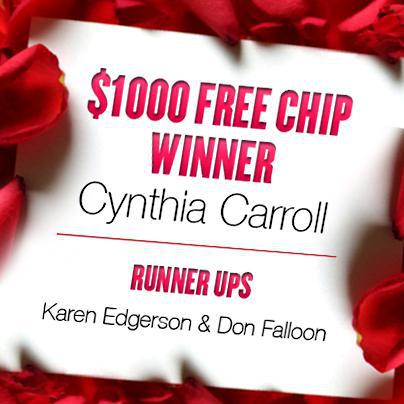 Honey to the Bee how I love thee.
You shower me with your free spins and Golden Flowers in threes.
We buzz around together in and out of the hive in anticipation of the big bee and hive to bookend us into more spins,
we soon loose track of time and long for ours to never end.
The Runner ups are: Karen Edgerson and Don Falloon.
We thank all of you who participated. We are certainly having a great day thanks to your amazing poems.
The winners should contact us with their usernames via Private Message on Facebook or via Live Chat.
Happy Valentine's Day!
Tweet