Need something to warm you up for the holiday season? No, we're not talking about eggnog. How about a trip to sunny Florida in the spectacular city of Miami! Slots of Vegas Online Casino wants to give you an insider look at some of the most exciting things that you can do in Miami, Florida. Perhaps you've got an extended layover, or simply have one day to spend in town, but don't know where to start. Not to worry, Slot of Vegas Online Casino has you covered.
From the sunny beaches to the most lavish nightclubs, great Cuban cuisine and yes, even gambling, there's no shortage of entertainment in the Magic City. From sports, arts and culture, and non-stop entertainment, Miami is the tourist destination for the holidays. So pack your sunscreen, favorite beach towel, and some money to spend, because Slots of Vegas Online Casino is turning up the heat with 24 hours in Miami!
Getting around in Miami
So you've just flown into Miami International Airport, and you've only got 24 hours to make the most of your time while you're in the city! Let's not delay!
First things first, you'll need a car. In Florida, driving is the best way to get around, and Miami is no exception. Fortunately, cars are easy to come by. If you don't already have a ride, you can always rent one for a decent rate (with a valid driver's license of course). However, we recommend using transportation services like Uber and Lyft.
They are the most popular options for tourists, and are worth using if you just want to stick to the Downtown, Miami Beach and Biscayne areas; or simply don't feel like driving. They also come in handy if you plan on going out and having a few, we don't exactly recommend you get behind a wheel if you've been drinking. Bikes also come in really handy, and can be rented anywhere along Miami Beach. Now that you've got your wheels, let's get rolling!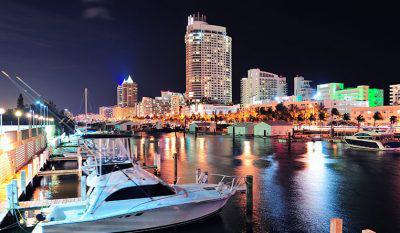 Posh hotels and tropical bungalows
Ok, you've made it out of the airport. Looking for a place to stay? Miami Beach is famous throughout the world for its fabulous Art Deco architecture, from the hotels to the restaurants along the Strip, the beautiful décor and lavish interiors will have you mesmerized.
For a first class experience the Fontainebleau hotel is rich with history. Las Vegas greats and Hollywood icons like Frank Sinatra and Elvis Presley have stayed and performed there. The hotel was even immortalized in the classic 1964 Bond film Goldfinger featuring Sean Connery. It's plenty posh and the rooms don't come cheap however, so be sure to check in advance, especially around the holidays.
For a more reasonably priced room with that vintage Miami look, head over to Lord Balfour right on South Beach. This tastefully decorated hotel is packed with colorful art, comfort and a retro feel; and isn't nearly as expensive as other hotels located on South Beach. We also recommend the spectacular deals on AirBnB. You can rent homes and rooms that come with all of the splendor and unique vibe of Miami for a fraction of the standard price!
Now that you've become acquainted with your abode, you could easily lounge around your hotel pool, sipping mojitos while you work on a fabulous tan. And why not? What's even better is that you can use your mobile device or laptop to play Slots of Vegas Online Casino's spectacular casino games! Simply sign in and create and account to download your favorite online casino games to start playing right away! What's better than raking in some serious coin while you lounge poolside? It's definitely one way to get ahead without having to fly to Las Vegas to hack the casinos.
Fuel for your fire
Ok, so you're building up an appetite. After all, airplane food isn't exactly five star cuisine, and maybe you want to wander out of your new pad to have a taste of the local cuisine. There's no limit to the amount of restaurants and dining establishments that offer fusion dishes, posh meals or local cuisine.
Don't want to break the bank? Check out Coyo Taco in the artsy Wynwood District for some spectacular breakfast tacos that will go easy on your wallet. Want top notch Cuban food? Head to Havana 1957 on Espanola Way for some excellent dishes. Or for the most authentic Cuban experience outside of Havana head over to Little Havana neighborhood for a taste of the local Cuban flair.
A cafecito should hit the spot. What's that you ask? It's Cuban coffee. Because nothing says Miami like drinking a hot cup of rocket fuel packed with sugar to really kick start the day just like the Miamians do. Just don't forget to talk to the local viejos for words of wisdom or to brush up on your Spanish. Azucar is also perfect for that sweet tooth. The decadent little ice cream shop offers ice cream varieties and sweets geared towards the local palette; like guava, sweet plantain and the classic dulce de leche.
If you don't mind parting with your dollars and are hankering for some finer dining, head over to Miracle Mile for spots like Bulla Gastrobar for Spanish or Naiyara over on South Beach for your seafood jones, everything is made fresh to order.
Arts and culture
As we're sure you've noticed by now, Miami has a very lively and vibrant culture thanks to its heavy Hispanic influence and melting pot-like atmosphere. If you feel like you need a little extra art kick however, then we recommend you check out the following spots for the visual arts.
On a budget? The Wynwood Arts District is the place for you. Located in the heart of Downtown Miami, this popular spot was once much poorer, but has been revamped and serves as the epicenter for upcoming local artists and art lovers alike. It's a swank, sleek, bohemian pocket of the city that offers remarkable street art and hip cafes, restaurants, and bars.
If you're in the area during the first weekend of December, then be sure to hit up Art Basel Miami, one of the largest art exhibitions in the world. The city is transformed and comes alive with art as people from all walks of life come to see the fair. The best part is that the Wynwood area has free entry to most events, which means that you can take advantage of the free drinks, food and music served by the various galleries and tents in the area!
If you've got a few bucks to spare or the latter hasn't quelled your art jones (or if you missed Art Basel altogether), we recommend you head over to Perez Art Museum Miami (PAMM for short). This recently constructed multi-million dollar art museum is as stunning on the outside as the art that's on the inside. It's open throughout the year, six days a week (except Wednesdays) and features some of the most incredible contemporary artworks and events from around the world! The Rubell Family collection is also one of the most impressive privately owned art collections in the country. For only five bucks it's well worth a visit.
Don't want to stay indoors? Try walking around the gorgeous Design District for some fresh air and eye candy. Known for its modern architecture and upscale interior design stores and galleries, pop in for some art admiring and shopping at the various boutiques and designer shops scattered throughout the area.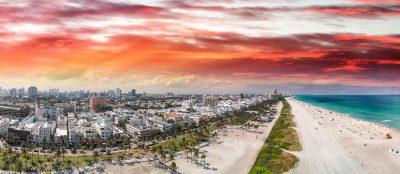 Head to the beach!
What more can we say, after all, you're in Miami, so why not hit up the beach! There's no limit to the things you can do in or near the water, from stand up paddle boards (or SUPs) to cruising around on jet skis around Star Island. Who knows you might even see a celebrity of two! If scooting around the waves isn't your thing, simply relax on the beach, dig your toes into the sand and work on that tan. If you feel the need to get away from the crowds of tourists at Miami Beach, you should head over to Soho Beach Club for their spectacular VIP pool parties. Or rent a bike and take it for a spin around South Pointe Park, at the southern end of Miami Beach.
It may come as no surprise that Miami is known for its scorching heat, so once you've had enough (and we're 100% sure you will) try any variety of incredible bars and restaurants back along the Main Strip. You can cool off with a tasty adult beverage at the popular local watering hole Wet Willie's for some alcoholic slushies. We recommend their signature Call a Cab cocktail to really pack in the punch. Or why not get grab a cold one at Mac's Club Deuce Bar for an authentic dive bar experience for a chance to catch up with the locals.
Miami nightlife and casinos
By now the sun's starting to set. So be sure to get changed, and grab dinner and a drink at 16th floor rooftop bar and lounge at EPIC hotel. Located in the heart of downtown, this is the place to visit for a spectacular view of Downtown Miami, a breathtaking Florida sunset and a chance to watch cruise ships take off toward the Caribbean from Dodge Island. It's no secret that in Miami night is when the magic happens. They don't call it Magic City for nothing!
If you're looking for a night on the casino floors within the city limits of Miami, we recommend you head over to Magic City Casino. It's popular local casino that's fully stocked with an excellent selection of slot games and poker rooms, and a true Americana style buffet and notable live events. Also, not far west, located on the edge of the Everglades, is the Miccosukee Resort and Casino. About a 20 minute drive from downtown Miami, this casino is owned by the Miccosukee members of the Seminole Native American tribe.
The floors are packed with some of the most popular slot machines, video poker games and private gambling rooms. So be sure to make the most out of your gambling dollars and hit the tables! If you're too tired to head back into town you can also choose from over 300 rooms for an overnight stay. Be sure to practice at Slots of Vegas Online Casino for free first before you decide to take a crack at the tables.
Still have some energy to go out? E11even should be your go to place for a true Miami club experience. This unassuming building is actually one of the hottest night spots in the city that's open 24 hours a day, and even includes a breakfast buffet. If you're out all night, you should wait to see the sunrise come up over Biscayne Bay. You won't forget it.
Congratulations. You're flight leaves soon. You've survived 24 hours in Miami.
Honorable mentions:
Watch the Miami Heat basketball team play at the American Airlines Arena. Tickets aren't too expensive, and it's a one of a kind experience to watch the superstars play, and even catch a glimpse of the Heat dancers!
Get your downward dog on at 3rd Street Beach Yoga. It's a 7am yoga class on 3rd Street that's free! It's the perfect workout to tone up that "beach bod". Just don't forget to BYOM (bring your own mat) and leave a tip.
Check out the Venetian Pool in Coral Gables. It's an outdoor aquatic attraction that has been popular in the lush Gables area for almost 100 years (pro tip: it was originally called the Venetian Casino).
Visiting Miami
• Get some wheels: whether your rent a car, use a bike or a transportation service like Uber or Lyft, having a ride is the best way to get around
• Miami has plenty of hotels and charming bungalows available for short or extended stays, from the super swank to the comfortable and cozy.
• Try the local cuisine! From traditional Cuban dishes and cafecitos to fusion dining and upscale restaurants; Miami has some savory offerings that are sure to keep your mouth happy and your belly full.
• Miami is all about the sun, so hit up the beach and go for a dip in the warm Atlantic water or try some water sports! The sunsets and sunrises over Biscayne Bay are to die for. Hotel pools are also a plus.
• Thinking of a night out? Miami has plenty of clubs, bars, restaurants and casinos for the perfect night out with friends, family or that special someone to share unforgettable moments with.
Now that you've familiarized yourself with the ultimate short and sweet Miami getaway, it's time to familiarize yourself with the world of Slots of Vegas Online Casino! We offer over 90 exciting slot games and a plethora of the most spectacular table games that will make you feel like you are on a real casino floor. All are available for download on your desktop and/or mobile device, and can be activated after a quick and easy sign up. Best of all it's free! If you want to play for real money, create an account and leave a deposit. Slots of Vegas Online Casino offers some very rewarding sign up no deposit bonuses and match deposits for new players. Our VIP packages are also worth a look, so don't hesitate, join Slots of Vegas Online Casino today!