Fan of Blackjack and other 21 Games?
Welcome to Slots of Vegas, your personal Sin City in cyberspace. Slots of Vegas has more than just slots; you can play hundreds of the latest online casino games right here – for real money. And one of the most popular classic casino games of all time is blackjack. Due to its low house edge and many variants, blackjack is an obvious favorite. Whether you prefer classic blackjack, Face Up 21, Perfect Pairs, Super 21, or other popular variants, you've come to the right place. You can win real money playing blackjack online at Slots of Vegas, and you can also try all of our games for free first. And Slots of Vegas is about more than just the games. Grab your generous welcome bonus, plus a wealth of other special offers and promos just for you! Enjoy the best online gaming action today at Slots of Vegas!
Blackjack is a game that's a beautiful of combination of luck and skill. The goal of blackjack is to make it to 21 without going over – from that basic idea, several unique games have stemmed from the classic that everyone knows and loves. Face Up 21, Match Play 21, Pontoon, Perfect Pairs, Super 21, and European Blackjack are just some of the variations of this casino favorite that bring gameplay to a whole new level. Each game has the typical goal of reaching 21 without busting, but the rules and variations vary widely. Many of these 21 games are difficult to come by, but Slots of Vegas has put together a section of our online casino devoted to collecting the best 21 games for our players.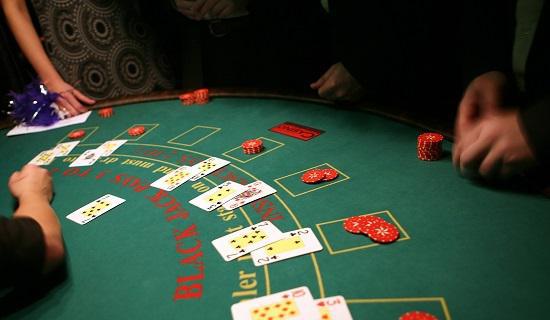 Learn before playing Blackjack Online for Real Money
Classic blackjack has one of the lowest house edges out of all the games offered on the casino floor, which is a big reason why it's popular around the world. In order to get the most out of this classic casino game, learning a little basic strategy is a must. Memorizing a blackjack chart doesn't sound like fun, but the extra rewards you'll have in your bankroll because you studied basic strategy will be more than worth the effort you put in. If you're even a little serious about earning some serious cash while you play blackjack, take a look into the strategy involved and you'll be thankful you did your homework faster than you can say "twenty-one."
Play at desktop or mobile
You can play blackjack online for real money on the Slots of Vegas desktop site, the downloadable PC app, or on any mobile device including a smartphone or tablet. However, if you're nervous about putting money down while you're learning the ropes, Slots of Vegas offers a free instant play section where you can practice that strategy you're studying. Open Slots of Vegas's instant play section in one window and a blackjack strategy chart in another and you'll be a blackjack professional in no time. Then you can be confident when you take those skills to the table and wipe the smile off the dealer's face as you rake in the chips. Everyone has dreamt of doing that, right?
It's simple as that
To start playing blackjack and other 21 games, sign up with an account on Slots of Vegas. It only takes a username and a password to get started, and the whole process takes less than two minutes. Then you can either start playing for free in our instant play section or play online blackjack for real money on the Slots of Vegas site or the downloadable PC app. You can also play on any smartphone. Play this casino favorite today and you could be multiplying your bankroll by 21!

THE HISTORY OF BLACKJACK
Step back in time to where it all began
Blackjack has a long and storied history. The popular casino game finds its roots in other cultures, where it was named Vingt-et-Un or Pontoon. Along the way, the popular card game was carried across the U.S. frontier via gambling dens all through the American South to the West. Along the way, the game developed unique variants, which eventually evolved into the most common form of 21 known today: blackjack. In order for blackjack to make the jump from brick-and-mortar to the online casino – years of legislation and technical advancement was required. Over the past 2 decades, online gambling has grown from a few online poker rooms to a multi-billion-dollar industry. Today you can play all of your favorite casino games for real money from your computer or smart device.
1600s: The Spanish 21
Cervantes, the author of Don Quixote, was a famous gambler. In one of his tales, a pair of card sharks excelled at cheating in a game called veintiuna (Spanish for 21). This was the earliest mention of the popular game with no clear origin.
Cervantes wrote his short story about 2 cheating gamblers in around 1601 or 1602. Rinconete y Cortadillo, the 2 cheaters named in the story, worked the streets of Seville, cheating unlucky punters out of their coins. The Spanish baraja deck of 48 cards was used to play the game of veintiuna (21).
As the story goes, the sneaky duo would gather would-be marks to explain the game. The aces were worth 1 or 11, and the goal was to get as close to 21 as possible without going over. The cards of the punter were compared to the dealer, and whoever was closer to 21 won. By mention of the rules of the game, we can be certain that 21 was being played in early 17th century Spain.
Whether or not those cheating card sharks received justice or escaped, you'll have to read the original tale to find out. But the popular game of 21, whether it was carried around Europe by Spanish card sharks – or spread by the local gentry – eventually made its way to France.
1800s: The French 21
The Spanish game of 21 makes its way to France, where it is called Vingt-et-Un.
The French version of 21 was originally called Vingt-Un, French for 21. It was later called Vingt-et-Un, which was first mentioned in the rules of the Petite Académie des Jeux in 1817.
Unlike the Spanish card deck, French 21 was played with a 52-card pack of 'French-suited' playing cards. While the symbols for the card suits were different, the aim of the game was still to score a 21 or as close to it as possible. The banquier (banker) deals the cards to the joueurs (punters), who then place their stakes.
Two cards are dealt to the banker and each punter one at a time, and if a punter gets an ace and 10 or an ace and a court card, he scores an 'immediate 21.' And in the case of French 21, the banker pays the lucky punter with the immediate 21 double his/her wager. Of course, if the banker also has the same value hand, both hands are nullified, and the punter keeps their bet.
1807: 21 According to Hoyle
Vingt-et-Un made its way to America, where it became known as 21.
While French-speaking gamblers from New Orleans might have still called it Vingt-et-Un, the Anglophones started calling it twenty-one, shortened to 21. In order to keep the rules stable and keep them from being lost in translation, a man named Hoyle meticulously recorded the details of many popular card games, including 21.
A more detailed explanation of the game developed, as well as some variants. Most of the common blackjack variants today are based on the same rules as the original European 21 varieties, with some minor exceptions.
In modern versions of 21, punters have different types of bets they can make before and during play, depending on the cards drawn and the rules of the table. The generous French double payments for immediate 21s were reduced to 3:2 or 6:5. Later 21 variants allowed punters to 'split' or 'double down' when certain cards appeared.
When 2 cards of the same value are dealt to a player on the opening deal, the player may split the hand to make 2 new hands, thus doubling the bet. Splitting 2 aces is a very desirable result, because the plentiful 10 value cards can bring instant 21s to both hands.
When dealt a 9, 10, or ace, a player may be offered the chance to 'double down' or double their bet. If they win, they are paid double. If they lose, they lose double. Doubling down is not wise when a dealer's hand shows 10 or ace.
1930s: Las Vegas Blackjack
21 became known as blackjack due to some innovative promos in Las Vegas casinos.
When the casino scene burst onto the Nevada deserts in 1931, the small town of Las Vegas was one of the first Nevada towns to take advantage of newly-legalized gambling in the state.
The first Las Vegas casinos were more like honky-tonk roadhouses than the casinos we know and love today. They had their charms, though: sawdust on the floors, a Western theme, and plenty of card games. And of course, when gamblers brought their families to a Las Vegas Western-style 'resort,' they could expect pony rides for the kids and cheap T-bone steak dinners.
The majority of Las Vegas casinos were located downtown, as the Strip had not yet been developed. A few straggling cowpoke, dude-ranch-styled casinos popped up in the Vegas suburb of Paradise, Nevada. After some heavy investments by notorious gangsters like Bugsy Siegel and others, Paradise would later evolve into the Las Vegas Strip we know today. But in the early 1930s, all the action was in downtown Vegas.
As downtown Vegas was just gaining popularity as a gambling town, casinos sprang up right and left. Proprietors of these early gambling joints offered the usual cheap steak dinners, prizes, and promos, until some casino owners came up with a novel concept: big payouts for getting a certain rare combination of 21.
When players were dealt an ace of spades plus a black jack (jack of clubs or spades), they won a 10-to-1 payout. The hand was called 'blackjack,' which became wildly popular. However, the casinos had to rethink their payout strategy when too many punters began draining the casinos. Apparently, blackjacks were more common than previously thought – especially when casinos were playing with multiple decks of cards.
Casinos withdrew their 10-to-1 payouts for blackjacks in favor of more conservative 3-to-2 payouts. However, the name blackjack remained long after the promo ended. Nowadays, any instant 21 made up of any ace and any 10-value card is called blackjack, regardless of suit or card colors.
BLACKJACK PLAYER GUIDES – WHAT YOU NEED TO KNOW
BLACKJACK STRATEGY
An effective strategy can be the difference between winning big and going home broke. And that doesn't just apply to online blackjack either. It's always worth learning blackjack strategy so you're better prepared for the different possible outcomes that can occur in a game. Check our blog for blackjack tips and strategy charts to help you lower the house edge. TIP: always split 8s and aces.
BLACKJACK ODDS
When playing any kind of casino game, check out the odds charts. Once you know the probability of each outcome, you can start to evaluate the risk better. A basic understanding of blackjack strategy will tip the odds in your favor by lowering the house edge. Seasoned blackjack players can lower the house edge from 1.5% down to a measly 0.5%, and that will stretch your bankroll 3x longer.
BLACKJACK TIPS
While blackjack relies on the luck of the draw, true blackjack strategy relies on what to do with the cards drawn. The dealer usually hits on 16 and stands on 17, so why not play it safe and do the same? Also, if the blackjack variant you are playing allows surrender, you should surrender when the dealer's face card is a 10. Also, when the dealer shows a 5, that is the worst possible result. So double down if you can!
HOW TO PLAY
You can access your favorite version of online blackjack in minutes! Simply login to your Slots of Vegas account, and deposit some funds at the "Cashier". If you have a bonus code to use, enter the code. From this point, simply find blackjack from the casino games menu, find the variation of online blackjack you want to play, load it up and select "Play" to begin. Choose your bet amount, and hit 'deal.'
SLOTS OF VEGAS BEST BONUS OFFERS
The best real money online blackjack bonuses for our players
190% Signup Bonus using code NEW190
The online casino market is filled with offers and incentives to attract new players. Slots of Vegas also loves to reward new players with a generous signup bonus! The good news is that if you're a new player to Slots of Vegas online casino, we have a rather nice little welcome gift for you to indulge in. Our 190% Signup Bonus can be redeemed to play a huge selection of casino games like slot machine games, and of course, online blackjack! To start using your welcome gift, simply head over to the cashier tab and enter code NEW190 to make the most of this fantastic and lucrative welcome bonus to jumpstart your online casino action. There are no maximum withdrawal limits to this offer, but it's worth noting that there are a few terms and conditions attached which you should pay attention to beforehand. The main clauses are a 30x playthrough requirement for blackjack plus an upfront deposit of $30 or more. Once you've redeemed your offer, you can begin using your bonus on a wide variety of casino games, and start playing online blackjack for real money immediately! Come and experience the thrills and excitement of Sin City with Slots of Vegas!
250% Slots Signup Bonus using code NEW250
If you find that 190% isn't enough, you can sign up using the bonus code NEW250 to get a 250% Signup Bonus valid for slots & keno only. While this bonus code won't work with blackjack, you can always sign up with Slots of Vegas for the 250% Signup Bonus, play some slots, then switch to blackjack any time you want. You can only sign up once, so choose wisely. If you really love playing blackjack online, by all means, take the 190% Signup Bonus instead and skip the slots bonus. One advantage of the 250% slots & keno signup bonus is the low playthrough requirements. You only have to playthrough 5x for this bonus, compared to 30x for the blackjack bonus. So choose your signup bonus carefully, you can only use one of them! But don't worry, there's plenty more where that came from; check out our monthly bonuses and VIP bonuses to give you more bang for your buck!
275% Jackpot Hunter Bonuses and VIP Bonuses
Who doesn't love a jackpot bursting at the seams with cash? To increase your chances of winning megabucks in one of our slot games, we've given you the perfect incentive to try your luck: Jackpot Hunter Bonuses! Use the code JACKPOTHUNTER on your favorite slot game with a jackpot to increase your chances of winning. Use the no max 275% Jackpot Hunter Bonus to give you more chances. With slots, you've got to spin it to win it! Just find your favorite slot game with a jackpot, go to the Cashier, and enter the bonus code JACKPOTHUNTER to receive your 275% no max bonus. Want more? Become a loyal VIP player for an even juicier jackpot bonus: the 350% Jackpot Hunter Bonus for VIP players only. Once you've started to climb the VIP tiers, tons of bonuses await you, including the special 350% Jackpot Hunter VIP bonus. Just contact customer support to claim your bonus with the code JACKPOTHUNTERVIP. There are 5 tiers in the Slots of Vegas VIP program, beginning with the High Roller tier. Work your way through Bronze, Silver, and Gold to reach the ultimate VIP tier: Platinum, where huge bonuses and rewards await!
QUICK BLACKJACK TIPS
Top Strategies for Winning Real Money Playing Blackjack
Blackjack is one of the most popular casino games on land or online. This is because blackjack has the lowest house edge of any casino game out there. The blackjack house edge is around 1.5%, you can increase the blackjack odds in your favor by applying careful strategies and knowing a few tricks. Check out our 5 tips on how to be a better blackjack player, and you can lower the house edge to a measly 0.5%! You don't have to be the Rain Man and count cards into the thousands, either.
#5 – Know the table rules
Before you sit down at a blackjack table – or load one on your pc – you should check the rules of the table, plus the rules of the blackjack variant you are playing. Some variants offer the surrender option, others allow splitting, doubling down, and insurance. Also, a 3:2 payout for a blackjack is much better than a 6:5 payout. You should also acquaint yourself with the betting limits, the number of hands you can play (single to multi-hand blackjack), etc.
#4 – Use a blackjack chart
Rather than trying to memorize hundreds of complicated betting rules, take advantage of our wealth of blackjack strategy knowledge written by professional gamblers and seasoned amateurs. You can find basic strategy for each type of deal on the blackjack table. Some are easy to remember, like 'don't take the insurance – it's a sucker bet.' But it is very helpful to have a blackjack chart with the probability of each card and each combination. But the best strategy of all is to know when to hit, stand, or surrender. A blackjack chart with the basic and advanced strategies will help you as a 'cheat sheet' when you are playing.
#3 – Make sure you understand the odds
The good thing about playing blackjack online is the fact that you can expect some nice payouts, due to the low house edge. If you're looking to play for big bucks, it really does pay to understand the odds of betting on each type of blackjack hand. This could involve using bets such as splitting, doubling down, or surrendering. All of these moves allow you to increase your wager when needed – or head for the hills with half your bet (surrender) when you don't. When you play blackjack online, just save the blackjack strategy article and keep the browser tab open while you're playing.
#2 – Manage your bankroll
There is one bit of advice you can apply to any online casino game you choose to play: make sure you're keeping track of your bankroll at all times. This will help you establish what you can realistically afford to lose. The best way to manage your bankroll when gambling online is to never bet more than you can afford. Check our casino guide for tips on how to manage your bankroll. This means you should set daily/weekly limits, never bet with money you don't have (credit cards), and don't react emotionally to losses. Just cool your jets, stop playing, and come back another day. Luck changes!
#1 – Play for free
The best way to minimize your losses when gambling is to practice the game first. While you can't play casino games for free in a brick-and-mortar casino, you can at Slots of Vegas. Practicing online blackjack for free is a great way to get familiar with the rules and game dynamics first. Before you risk any real money, take each blackjack game for a test drive first. You'll find new favorites with zero risk, and you'll build up a sense of confidence in the games. You can practice several variants of blackjack on our site for free using the "Instant Play" option. Once you're ready to transition to playing blackjack for real money, simply switch the option next time you're at the Cashier.
Can I play online blackjack for real money?
You can play all our online games (including blackjack) for real money at Slots of Vegas. If you're new to the casino, simply register an account and enter a few personal details. Then head over to the Cashier and deposit some funds into your account using a variety of different banking options. While you're signing up, grab a generous welcome bonus! If you're not quite ready to play with real money just yet, you can practice playing blackjack for free using the "Instant Play" option on our website first. It's a great way to increase your knowledge of the games – while saving money in the process. When you're ready to win some real money, you can then hit the blackjack tables and play for actual money.
What's the best way to win blackjack?
There are several kinds of bets you can place in blackjack, some better than others. Doubling down is a great way to get ahead, but check the charts for the best time to double down, split, or even surrender a hand if you need to. We recommend using a blackjack chart and developing an effective winning strategy. The SoV blog is loaded with helpful tips and tricks to help you become a better blackjack player. Another valuable tip is to ensure you set yourself a loss limit. That way, you can keep an eye on your bankroll and make sure you're not spending anymore you can realistically afford. For extra online blackjack tips, and for all our other games, check out the Slots of Vegas casino guides for helpful resources and more info!
How can I ensure the results are fair?
All of the games on Slots of Vegas work with Random Number Generators (RNGs) to ensure a completely random and fair result on each deal of the cards or each spin of the slots. Our online casino is verified by Technical Systems Testing (TSTs), an internationally recognized accredited testing facility. These are the same companies that work with major state lotteries in dozens of countries, states, and cities. Slots of Vegas is also certified by the Institute of Game Technology (IGT). This company carries out complex QA testing on every one of our games – including blackjack. So you can rest assured that you're getting a fair deal – literally – for every blackjack card you receive. Check the certifications at the bottom of our website for more details on fair gaming.
What kind of online blackjack games do you offer at Slots of Vegas?
You have a variety of 21 games to choose from on Slots of Vegas, each with its own style of action and unique types of betting options. Choose from the classic Blackjack 21, European Blackjack, Face Up 21, Super 21, Match Play 21, Perfect Pairs, Pontoon, and Suit 'Em Up. Fancy a side bet? Try Perfect Pairs 21, where you can place side bets on drawing matching pairs, with an increasing payout for matching high face cards of the same suit. What's so super about Super 21? The player's blackjack always beats the dealer. You can also get back to the early roots of 21 by playing Pontoon, unique in its own right. Can't decide which blackjack variant is your favorite? Just play them all for free first, then decide!


Can I play blackjack online for mobile?
You're in luck! You can access all of your favorite online casino games from the comfort of your smart device. Trade in the wires of your home computer for the freedom to gamble wherever you are and whenever you want! The screen may be smaller, but the freedom is much greater. And that's not the only benefit of playing online blackjack on mobile devices either. You can also claim unique reward bonuses and exciting promotions specifically tailored for our mobile casino customers. These include welcome bonuses, match deposit bonuses, comp points, refer-a-friend bonuses, and everything in between. So, no matter which mobile games you play online, you can expect the same level of rewards and incentives at Slots of Vegas!