You have decided to stay and take a crack at some real money online casino games. Have you ever wanted to know what you should wear to get the most out of your gambling experience? Well, look no further because Slots of Vegas Online Casino has put together a list of ten of the best things you can wear at home when playing online casino games.
No. 1. Pajamas
Well, this one's quite simple. You're at home and have decided that it's getting late, but you're not quite ready to go to sleep. Naturally, we recommend you read a book or play a game to keep your interests up. So why not break out the pajamas! First of all, they are super comfortable, and for those chilly nights they are perfect at keeping you warm while you have your favorite snacks and drinks available on hand. The best part is that you can make them holiday themed! After all, Christmas is right around the corner, so why not take advantage of some tacky holiday pajamas to bring that special cheer. Need a good game to with it, check out our hottest slot game Swindle All the Way. It comes with fantastic prize multipliers and huge payouts. Play now for free or for real money!
No. 2 Gym shorts/sweat pants and a sweatband
Let's say that you've managed to up your pot handsomely and want to keep playing to hit that coveted mega jackpot payout. The only problem is that you've begun to break quite a sweat, but aren't looking to shower anytime soon. After all, playing big hands of poker or seeking the highest prize on a specialty game definitely tests ones nerves, so why not put a pair of gym shorts or sweat pants and some sweatbands to keep that perspiration down to a minimum. The latest, state of the art gym clothing comes complete with cool fabric technology that'll have you feeling dry while you keep pushing the ante. Why not try our specialty game Treasure Tree if you really want to win big while you play in your sweats.
No. 3 Jeans and a t-shirt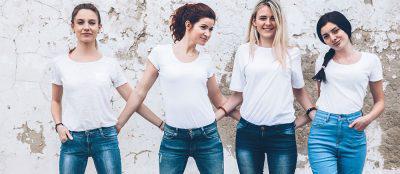 This option is classic, and offers comfort as well as casual decency if you decide to have friends over while you play. What more can be said about the denim jean and t-shirt combo, other than it is timeless, right? Whether you want to look like James Dean or Marlon Brando or just your average American Joe, the combination is a comfortable look that is also versatile. In case you need to pause your game or are gambling on the go for real money at an online casino on your mobile device, the denim jeans and t-shirt option is the best for you. Head over to the video poker section to play Aces and Eights our video poker fan favorite!
No. 4 Your birthday suit
Well, let's face it, you are at home so if you're looking to get comfortable, why not get real comfortable and just play in your birthday suit. That's right, we said it. We of course are assuming that you live alone or at least have the decency to shut your door in case you have roommates that, well, might be bothered by your choice of "attire".
Hey, there's nothing wrong with getting comfortable, after all, it's your home, so you want to make the most of your privacy when you decide to hit the online casino to play for real money. What better way to play to establish confidence than in your birthday suit? Yeah, we can't think of one either. If you're feeling risky, then bring up the heat and check out Hot Dice in our specialty games section.
No. 5 Adult onesie
The latest trend sweeping the nation is the adult onesie. Really, when it comes to comfort and ease of dress, the adult onesie is hard to beat. Remember when you were a toddler, you would run around in basically what was a one piece tracksuit for infants? Well, picture that but for adults. That's right, adult onesies are not only very fun to be in, but take very little time getting into (or out of for that matter). Let's be honest, you wouldn't exactly where one of these outside of the house, so now's the perfect opportunity to wear one inside while playing for real money with your favorite online casino games! Having difficulty choosing? We'll pick one for you. Check out the Bubble Bubble 2, the exciting slot game that offers massive payouts and fun bonus features.
No. 6 Track or leisure suit
Alright, let's say you want to get the Jersey feel or simply are a fan of the Backstreet Boys, well despite the leisure suit being more of a throwback to fashion trends of previous decades we must admit that they are comfortable. Heck even popular TV characters like Tony Soprano wore them! Let's face it, there's nothing wrong with wanting to keep simplicity and comfort at a maximum level as you decide to focus all of your energy on winning big when you play at real money online casino.
Simply put, the track suit is the way to go. They come in all different colors and materials, you can go with the classic LL Cool J and Run DMC era tracksuit from the 80s for a real throwback, or go all out with a velour jumpsuit like J. Lo famously wore in the late 90s and early 2000s. There's no limit, so play by your own rules and have fun. Speaking of playing, why not head over to the Baccarat table if you're new to gambling or even a returning player. It's a phenomenally easy game to learn how to play and will have winning big in no time. Slots of Vegas Online Casino wants to make sure that you get the most out of your gambling buck.
No. 7 Leggings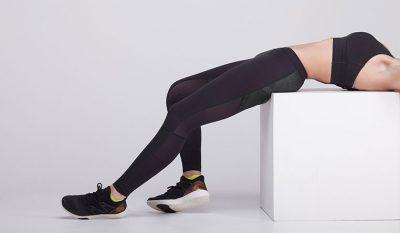 This one's more for the ladies, but hey, who can argue the comfort of a good pair of leggings? If you are looking to keep it low-key while you play for the dollars then leggings are your best bet. First of all, they take practically zero time to put on, and hey, they keep your legs warm! Need to run to the store or diner to grab a bite while you play, then you can try the cousin of leggings, jeggings. That's right, jeggings are leggings disguised as jeans. We can't make this stuff up. If you want to wear a pair of jeans without the hassle of actually having to put on denim, then jeggings are the way to play. Be sure to head over to the table games section to try out your newest pair against a hot game of Face Up 21.
No. 8 Adult diaper
If it really comes down to it, consider this more as an in case of emergency type of attire. Need we say more? Let's just put it this way. If you have zero intention of taking a break from your computer screen (and we hope this isn't the case) in order to continue playing your favorite real money online casino game of choice, then might we suggest the adult diaper? Heck, we don't really want to consider it as an option, but just we'll keep it on the list as more of a precautionary measure, so that you don't have any sort of accident during a your high stakes game or winning streak. We'll live the game choice up to you on this one.
No. 9 Bulletproof tuxedo
Last, but not least, if you've got the coin to spare this is your ultimate attire to wear. If you want to feel like 007, James Bond while you take a spin at the Roulette wheel, enter a high stakes poker room or decide on the classic choice of Baccarat we recommend you wear the bulletproof tuxedo. This might sound like complete fiction, but it isn't. A company known as Aspetto manufactures them to some seriously high end clientele and world travelers. After all, you don't want to just look like double O seven, you want to function like him, especially at a VIP table game with the help of this suit. You'll be winning big in no time. Also you can try your luck at AzureHand.com and claim great bonuses.
Conclusion
Whatever you decide to wear, be sure to do it with confidence, as you play at real money online casinos. Slots of Vegas Online Casino is the place you need sign up with in order to maximize your gambling buck and win big. We offer a huge selection of incredible online casino games. No one does it better than Slots of Vegas Online Casino.