Attention! Public Service Announcement: Get ready to break out your knives and forks, everyone, because foodie culture is on the rise. And it's time to ride that wave – after all…
What could be more important than finding ways to replenish your strength when you're on a winning streak?

Luckily, buffets have evolved alongside this wave, and food enthusiasts are no longer forced to choose between fancy gourmet establishments and all-you-can-eat buffets.
Read on for a comprehensive list of the world's most noteworthy smorgasbords (isn't that a great word?) on your quest to find the Holy Grail of casino buffets!

Oh, and make sure you pack that pair of pants with the extra stretchy waistband to dine in comfort and transition smoothly into the one place that perfectly complements your casino buffet adventure – Slots of Vegas.
Gourmand's Choice
Bacchanal Buffet
Location: Caesars Palace Las Vegas Hotel & Casino
We'll start right off the bat with what many believe to be the best buffet in Las Vegas. As the saying goes, "Variety is the spice of life." For the days that you just need to treat yourself (and I mean, really treat yourself), visit Bacchanal Buffet and you won't be disappointed. Thrillist magazine hailed it as "the standard against which all Las Vegas buffets are judged." The 25,000-square-foot space contains 600 seats, so it's no surprise that it's one of the biggest and most recommended buffets in the city – just the sheer volume alone is awe-inspiring!
The selection and quality make it a difficult one to beat – it really does provide ALL you can eat! The buffet offers an immense variety of over 500 different dishes, many of which are made-to-order (in nine show kitchens) and plated right before your eyes. The cuisine spans from Mexican to Chinese to Italian and more, catering to any and all nitpicky preferences. Highlights include the extensive Asian cuisine area with options like sushi and dim sum as well as the southern-style barbecue station.
Are you a seafood lover? Try scallops, fresh-shucked oysters, or king crab legs, but also consider add-on options like whole poached lobste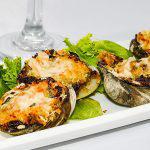 r or Sasanian Imperial Caviar. If you're with a group, you can order an entire fish (Norwegian Mackerel, New Zealand Tai Snapper, or Golden Pompano) – stuffed, grilled, and seasoned with lemon and herbs. Don't worry! If you're not feeling adventurous enough for dishes like bone marrow and gazpacho with roasted red pepper and crab, the buffet also includes gourmet renditions of more traditional foods like mac 'n' cheese and pizza.
Whether you're waiting to be seated during "rush hour" or taking a break between dinner and dessert, it's easy to pass the time with some exciting games. And just think – after a feast fit for a king (or, in this case, an emperor), what better way to end the evening than to find a comfortable spot, log onto slotsofvegas.com on your phone, and play Caesar's Empire Slots on your smartphone or tablet right then and there, in the awe-inspiring Caesars Palace itself?
Breakfast Fare
Le Village Buffet
Location: Paris Las Vegas Hotel & Casino
If you're in Vegas and searching for a genuinely unique fine-dining establishment, you won't want to miss the magical ambience of Le Village Buffet. When you step inside, you're instantly transported to a charming, cobblestoned French village – without the expensive fifteen-hour flight (and the jetlag that comes with it), all for the price of $21.99 to $30.99, depending on the time of your visit. As far as Las Vegas buffet prices go, these are pretty reasonable. An added plus: they now accept reservations on OpenTable – that means no long lines!
Like Bacchanal, this buffet presents live-action stations, where you'll find dishes originating from five provinces of France – Provence, Alsace, Burgundy, Normandy, and Brittany. The décor of each station is also inspired by the region it represents, visually enhancing your overall experience. And, you can erase from your mind the image of listless piles of food as buffet goers mill about – the meals are prepared on-demand to guarantee only the freshest and finest.
On Foursquare, it was deemed by many to b ethe best breakfast buffet in Las Vegas, and on Yelp, one reviewer exclaimed, "The make-your-own omelet station is neat, and the crepe station is to die for! They have fresh made to order sweet and savory crepes, and the peanut butter fluffernutter is my absolute favorite." Waiting for a lull to get a second (or third or fourth) helping? Why not log on to your favorite website slotsofvegas.com and check out the daily special no deposit bonus codes to pass the time? Crepes and free spins – two of our favorite things!
Plus, if you love Le Village enough to visit again later in the day, you're in luck. Their guests rave about their dessert offerings as well. The station has a magnificent spread of around 40 authentic French desserts to enjoy at the end of the evening, and the selection ranges from pastries to pies, from favorites like macaroons to specialties like vanilla bean crème brûlée.
The Borgata Buffet
Location: Borgata Hotel Casino & Spa – Atlantic City, NJ
Every true casino aficionado knows that New Jersey boasts one of the best gambling cities outside of Las Vegas: Atlantic City. If you're not one for the flashy spectacle Las Vegas is known for, then you might find its glitz and glamor a bit too much for you – in which case, Atlantic City is the place to be.
The Borgata offers you luxury amenities at the same high caliber as Vegas casino resorts, but one thing that sets it apart is the celebrity chefs you can find there – Bobby Flay, Wolfgang Puck, and Thaddeus DuBois, to name a few. Often referred to as the Las Vegas of the East Coast, AC will satisfy both your gambling needs AND the deepest darkest desires of your inner epicure.
Buffet veterans recommend the prime rib, crispy fried chicken, and General Tso's chicken, but most of all, they recommend that you fuel up for an exciting day with the most important meal of the day: breakfast. Joanna D. on Yelp raves, "The turnover is so fast for the breakfast/brunch, everything is always fresh!" She says, "The biscuits and gravy are one of my favorite dishes! So flavorful! You can find breakfast tacos, breakfast pizza, frittata, lox, an assortment of breads, eggs and sausage, just to name a few dishes."
Now of course, we can't forget the other side of things – a trip to the East Coast means you're right next to the Atlantic Ocean. Has a summer heat wave hit the city unexpectedly? A daytrip alternative to gambling is to spend a relaxing afternoon at the beach. Pack your sunscreen, beach towel, and rainbow parasol – but don't forget your power bank for a lucky streak on slotsofvegas.com – just click on "Play Real Money Casino Games" for a chance to win big.
Seafood Buffet: Las Vegas Edition
The Buffet at Wynn
Location: Wynn Las Vegas & Encore Resort
Maybe Vegas is just a perk for you – your friends or family are gearing up for an extravagant trip chock full of drinking, shopping, gambling, and dancing the nights away, but, for you, the real appeal is the seafood. You wouldn't expect Nevada to be the prime location for it, but the array of seafood restaurants is remarkable. It was hard to choose just one, but given that we covered Bacchanal first, we'll introduce you to the Buffet at Wynn for the extra allure of its upscale style and variety of offerings.
Towards the end of 2015, the already decadent Buffet at Wynn went through a revamp that brought the Vegas buffet game to another level. The new and improved buffet looks like a dream. (Perhaps a dream about being inside of Willy Wonka's chocolate factory.) Sunlight floods in through the high glass ceiling and windows with light green accents, and the space is filled with brightly colored sculptures and awnings. The dessert centerpiece features a sculpture with three pools of white, milk, and dark chocolate.
Like we said, when it comes to Vegas buffets, quantity doesn't require a sacrifice in quality. This one includes 120 new offerings like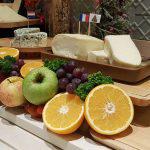 the must-try signature Sinatra family meatballs, smoked salmon pizza, and 39 dessert options arranged around the chocolate fountain. Their seafood spread includes the likes of salmon in truffle sauce, Mediterranean clams, oysters Rockefeller, Jonah crab claws, and (of course!) Alaskan King crab legs. What more could we ask for? They've even gone so far as to add 177 speakers to the space, enhancing the sensory experience beyond just culinary delights. When deciding what to pair with the dishes you choose, be sure not to overlook the Endless Pours option, an $18 add-on that includes all-you-can-drink adult beverages.
In short, it's a breathtaking candy-land filled with enticing dishes. After the fantasy comes to an end, head back to the hotel room and log on to Slots of Vegas – Indulging in slot games to win real money can be just as satisfying a sweet tooth. With a wide variety of games available, players can feel like a kid in a candy store, choosing from a range of themes, graphics, and bonus features. Whether you prefer classic fruit machines or modern video slots, there's a game out there that suits your taste. So sit back, relax, and spin the reels for a chance to win big!
International Honorable Mention
We know we promised a list of international picks, but it turned out after some research that the best and brightest are in the United States. But here's an alternative for all you fancy-schmancy jet-settin' readers out there.
Afternoon Tea Buffet
Location: The Ritz-Carlton Café – Macau
Although Vegas is universally considered the best city to gamble, we were surprised to discover that Macau has recently been crowned the gambling capital of the world. This is partly due to the millions of Chinese gamblers who frequent the city (technically a Special Administrative Region of China), but it's also because of the accelerated pace at which it has constructed state-of-the-art buildings. Sands Hotel and Casino opened a resort in May of 2004, which started the irreversible chain of Vegas influence in Macau. It is now home to more than 40 casinos, and according to the New Yorker, "The quantity of money passing through Macau exceeds that of Las Vegas five times over."
Though Vegas has its share of famous sights, for travel buffs, Macau offers a stark contrast in terms of opportunities to explore. For one, it's the perfect location to take a day trip to Hong Kong. Within Macau itself, must-see tourist spots include the casinos of course, but there's also Largo do Senado, or Senado Square, where you can find everything from Portuguese architecture to charming shops to egg tarts (trust us, they're good). Make your way through the street and visit the most popular landmark in Macau, the Ruins of St. Paul's, a 16th-century cathedral. Another essential is A-Ma Temple, a UNESCO World Heritage temple that was dedicated to Mazu, the Chinese goddess of the sea and also dates back to the 16th century. After a day of visiting sacred sites, you'll be filled with peace and luck – bring a little back to Slots of Vegas on your laptop or smartphone and try one of our many Chinese themed slots like Fucanglong, Lucky 8, Lucky Tiger, Super 6 or Zhanshi!. (Be sure to visit during Chinese New Year for extra luck!)
One nice aspect of a trip to Macau is that visitors have access to the alluringly exotic as well as the familiarly luxurious. To create a contrast after a day of culture, move on to the first-class Ritz-Carlton Café, where they offer a French afternoon tea buffet. The sweet and savory selection is modest compared to the other buffets on our list, but it's a refreshing change. Sample their classic madeleines and tiny fruit tarts, paired with a glass of champagne for an additional cost.
Key Takeaways
We know that budgeting in Vegas can be a balancing act, especially when you take your Slots of Vegas hobby into consideration, but looking for free buffets in Las Vegas can be tricky. However, one consistently reliable deal is the Las Vegas Buffet of Buffets, which is essentially a package deal. If you're planning a longer stay or just want to cram in the full Vegas experience (or just plain consume a lot), this could be the most worthwhile way to tour the buffets available. Buffets like Paris and Planet Hollywood are included, and Bacchanal and Carnival World can be added for an upgrade fee.
Regardless of whether you end up taking our recommendations or not, you will, without a doubt, have an unforgettable time. Enjoy your trip, and always keep in mind at each buffet – bored while you wait? Visit Slots of Vegas on your smartphone, and gamble on the go! Or let the Asian cuisine stations inspire you to try out slots games like Lucky 8 and Golden Lotus. No matter where you dine, if you're too stuffed afterwards to make your way through the vast halls of your resort or the casinos are just too crowded, you can always download the Slots of Vegas casino on your laptop for a peaceful but fun-filled evening – without being elbowed and jostled by sloppy drunken guests. Happy eating!
See also: "The world of Las Vegas resort fees"