Advantages and Disadvantages of Gambling
Have you been roaming the empty, carpeted corridors of a Las Vegas casino, wondering where everyone else has gone and how on earth you managed to get there? Vice versa, have you been staring at your computer screen while sitting in your underwear for the past five hours, clicking and clicking on those bonuses, wondering how the other half lives? Well, the truth is that the grass is always greener on the other side. But if you want to compare and contrast the experience provided by online casinos versus land-based casinos, then you came to the right place.
Finances
When it comes to online versus real gambling, there are a lot of things to consider. Each has its benefits but they also both come with their own downsides. First and foremost, when deciding which type of casino is for you, consider the financial aspect – this is the world of gambling after all, and money talks. Land-based and online casinos will often offer you the promise of personal gain, but in different forms. With in-person casinos, you will often receive comps or promotional prizes to peak your interest. Since it is land-based, companies often want to improve the entertainment value of your casino experience. This can come in the form of free dining and drinks, free show tickets, and accommodation such as free or discounted hotel rooms. Once you leave the casino, they can continue to send you these promotions to make your next visit even better. Online casinos don't have a physical base, so show tickets would be pointless coming from them. Instead, online casinos offer comps and promos in the form of bonuses (sign up and regular rewards) such as free chips. In the competitive market, with so many online casinos out there and the number growing every day, you can bet that these bonuses will be a great deal.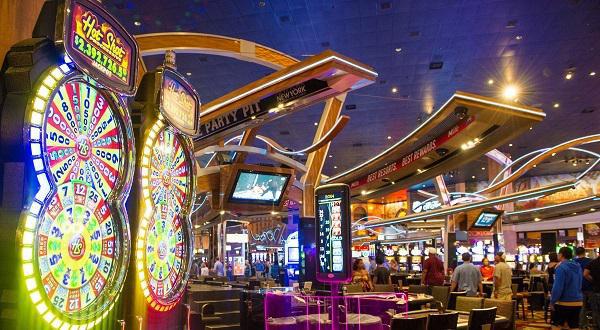 Aside from the comps you may receive, there are a lot of other financial incentives to help you decide whether or not you want to make Fear and Loathing in Las Vegas a reality. Investing your gambling money at an online casino may prove to be more cost effective in the long run. When making the trip to a real casino, you have to take the expenses of accommodation, travel, and meals into account. If this isn't enough to break the bank for you, don't forget that along with not having to worry about travel costs, you may also receive better payouts from online casinos. Because websites have way lower overhead costs, they don't need as much income to produce the same profit – meaning they can offer you more money for your bets. In a more indirect way, playing at an online casino may work to your advantage because if you find yourself succumbing to tilt or getting frustrated with a slow cash flow, you can simply log off and log back on at a later, more productive time. If you hit an unlucky streak at the beginning of a week-long vacation at a land-based casino, it's significantly harder to pick up and walk away.
Another argument that can be made is how the casino currency you are using translates to how you perceive and spend it. With online casinos, you have to enter your account information to deposit and withdraw your money. Even with the myriad of methods offered by casinos, this process can take a couple days to process. At land-based casinos, your transactions are immediate and in person, but you have to consider the form your deposit takes, a.k.a. in casino chips. Let's be honest – when you have brightly colored, plastic casino chips it can be hard to take your money seriously. Looking like candy, you may start to think a chip worth $100 is nothing at all and end up squandering your entire bankroll in a few short minutes. Online casinos, on the other hand, display your account balance in real time, so that you know exactly how much you're putting down and getting back out of each bet. While the visible account balances may seem a little less fun, there's something to be said about not laying down all of your money in a moment of high-risk over-confidence.
Gambling Atmosphere
Online casinos may cost you less in the long run, but that's because so much of the cost of real casinos is spent on creating the perfect atmosphere. With land-based casinos, gambling is only a small fraction of the fun. Upon entering the building, you find yourself in vacation mode with no distractions from your own enjoyment – it's up to you whether that works in your favor or not. At real casinos, you get to dress up and socialize. Wearing your nicest suit, no one will know what a loser you might be in real life. That's where a lot of the casino charm comes from. With the ability to live it up for a night, you can be who you've always wanted to be, whether it involves a "shaken, not stirred" or more of a "sex on the beach" kind of vibe. The social aspect draws a lot of people to real casinos every year, whether it's because they're a little lonely or they need to trash talk someone to play their best game. At a real casino, you can interact with the dealers, your fellow gamblers, and some very patient cocktail waitresses. The only thing to watch out for with real casinos is how much time you spend there. They purposely don't put clocks on the walls and block out natural lighting so you don't know how much time you've spent at the table. Often compared to The Odyssey's land of the lotus eaters, you may finally leave a Vegas casino and find yourself forty years older with a long, grey beard.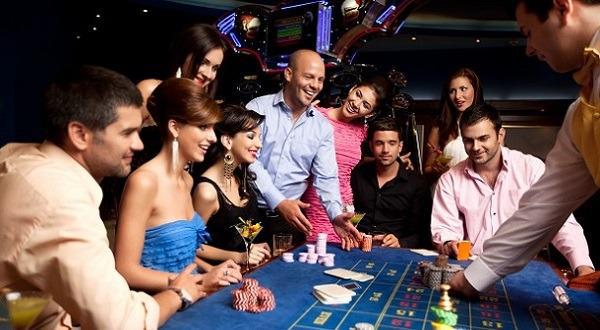 There's something to be said for the "atmosphere" of an online casino, or lack thereof. When you have the option of gambling from anywhere you have a computer and internet connection, you can comfortably play slots or a game of blackjack in your undies or footsie PJs – don't worry, there's no judgement here. There's also some social dynamics at play. If you crave interaction but you're painfully shy, then maybe online casinos can be your best friend. With online chatrooms between players and the option of live dealers, you can get your social fix without getting totally overwhelmed. You can multitask, whether that means watching the kids, watching the game, or watching the risotto so it doesn't burn. Doing other things while playing online casino games can prevent boredom and burnout, but sometimes your ringing house phone or neighbor's dog who just won't shut up can get distracting, hurt your game strategy, or even cost you a win. Speaking of risotto, one positive about gambling from home is that there are no restrictions on where or what you eat and drink. But with every positive comes a negative; an online casino cannot cut you off or kick you out if you've had a little too much to drink. So, make sure you watch yourself and don't get too juiced. Too much whiskey and you may just gamble away your savings.
So really, the biggest deciding factor of whether you should make the trip to a real casino or stay in the comfort of your home is your personal gambling goal. Do you want to gamble once a year and make a dazzling vacation out of it? Or do you want to play it smart, live like a hermit, and potentially make some serious dough?
Other Important Stuff
Aside from the big and obvious deciding factors that come with comparing online versus real casinos, there are a few other things to consider. First and foremost, at either kind of casino you will get a unique kind of privacy, whether it is informational or social. At real casinos, people will know your face but since you don't have to make an account with your personal and bank information, you get a sort of privacy in that sense. On the other hand, at online casinos you can maintain a social anonymity. Along with avoiding crowds of people, you can play a game you're new to and not feel embarrassed about messing up. If you made a bad play that cost you your budget for the day, no one else has to know. You can stay comfortably anonymous behind your computer screen.
Another thing to consider is the customer service at your casino of choice. With online casinos, you have the benefit of 24/7 live chat support, telephone helpline, email, and fax. (That one's for the people stuck back in the Stone Age. If you're frequenting an online casino this probably isn't your communication method of choice.) Another benefit for people who are hoping to gamble from other countries is that online casinos offer support in multiple languages. For land-based casinos in Las Vegas, which operate almost entirely in English, a nonnative speaker may find themselves in a pickle. Another international feature to consider when choosing online or a real casino is how currency is dealt with. For real casinos you are required to exchange your currency to that of the casino, and then again into the form of chips. It is a costly process and you are less aware of how much money you are really spending with each bet. You can totally avoid this hassle when playing online because online casinos accept multiple currencies. With some online casinos, you can even play against other gamblers using different forms of currency! If you're feeling the need for some international speed but math has never been your strong suit, using the multiple currency options offered by online casinos may be your best bet.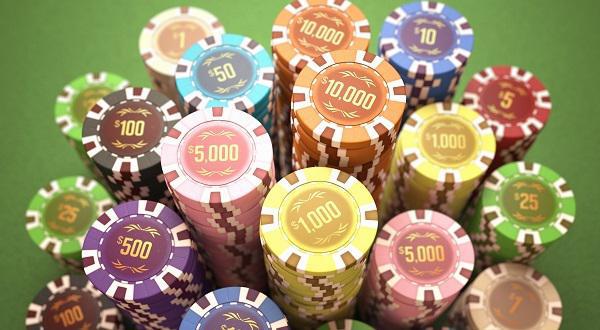 Anyone weighing the pros and cons of online and land-based casinos should consider the user experience. And yes, this applies to in-person venues as well. With online casinos, you have the option of going at your own pace. One thing you will never find at a real casino is practice mode. Just imagine walking into a casino in Vegas, and asking the dealer if you could play "a few practice rounds for free." For all the newbies out there, online casinos are also a great place to start because each game has a help tab that outlines the rules for each game you play. I doubt you'll find anything of the sort in a real casino – the general consensus tends to be that if you're sitting down at a table, you should already know what you're doing. For those looking for a faster game pace, with games like poker you can play multiple tables at the same time versus the in-person single table, which could increase your winnings by up to 24x. Remember that the nature of games like poker drastically change when you start to play them on an online platform. Poker played in person is all about reading your opponents while maintaining that poker face, but how can you read people online? And if you think you'll make your fortune counting cards in a round of blackjack online, you're dead wrong. The RNG which operates the deck shuffles after each deal, so counting cards is nearly impossible.
So, now you have it, all your pros and cons of online casinos versus land-based ones. It's up to you to decide which one works better for your needs and preferences, whether that means sitting at a table in your fresh tuxedo or lounging around your house in your favorite outfit – your birthday suit. But I can't tell you which one you'll like better. The best way to figure it out is to test both options and see which works best for you. But there are so many online casinos out there, how do you choose? Slots of Vegas casino is a fun and exciting platform, and it offers all the online casino benefits mentioned above. Check it out today – I know you'll fall in love in no time.