Internet Usage Predictions for 2012 [Infographic]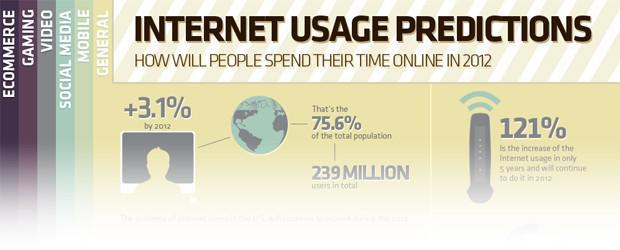 The internet is a wonderful thing but let's faces it, we have become more and more dependent on the ability to stay connected to our friends, our job or anything that we care to be involved in. Today's world practically forces us to stay in front of a computer all day long, but have you ever wondered how you spent your time and money online? Or even more importantly, how will you do it in 2012?
Embed this Image on Your Site:
This inforgraphic includes interesting and fun internet usage predictions for 2012, including varied aspects such as online gaming, shopping, mobile usage and video streaming. If you're an internet junkie just like us, you'll probably relate to most of the information we share, if you're not, then you'll probably be surprised with the unbelievable numbers contained by this infographic. If you like it, why don't you share it with your friends just for fun, and compare which one of you is the most connected to their online world. If you'd like to share it, please feel free to do it by coping the code below, you can also use our social media buttons located next to our embed code.
In case you were wondering, here are some of the sources for our infographic: