From cards and drinks in Casino Royale to the insane Russian challenge, "Tiger has Come," these are the best drinking games from all over the world.
Gambling and drinking are two of the world's oldest pastimes, and joining them together into one experience is something that's been happening around the globe for centuries. We've done the research and collected a list of the world's best drinking games, from ancient history to modern times. Now you can have the knowledge and be ready to play all of them in your own home (well, most of them). So pour that night-cap and take a look; these will come in handy at the next party.
1) Edward 40 Hands – America
In 1990, Tim Burton created the masterpiece, "Edward Scissorhands." Not too long after, people found a way to make a drinking game out of it. This may not be how James Bond drinks, but it has its own kind of charm.
How to Play:
With the help of a friend, duct tape a 40oz bottle of alcohol to each of your hands. Classically speaking, this game is played with malt liquor, but you can use cider, beer, or whatever else feels right to you. The result is you looking like a drunken Edward, and the catch is that you can't go to the bathroom until you've finished both of your 40s. And I mean, like, you literally can't. Because you have bottles taped to your hands.
Tip:
Before you tape up, set the autoplay for 40 spins for each of your 40oz on Voodoo Magic, to add an additional air of Burtonesque weirdness and potential winnings to your stagger.
What to Bet:
I mean, come on now, you're already betting on your ability to not pee yourself in front of friends. Are those stakes not high enough for you?!
Drinks and Materials needed:
– Two 40oz bottles of liquor per person
– Duct tape or the equivalent
– Large bladder
2) Kottabos – Ancient Greece
All right, this one is actually rumored to be of Sicilian origin, but it was made known to us by the writings of the Greeks, as it was highly popular in Ancient Athens. It was discussed by some of the great Grecian thinkers of the day, including Sophocles, Euripides, and Aristophanes. In fact, the game was so important that those who played it best were regarded as highly as an expert javelin thrower would be.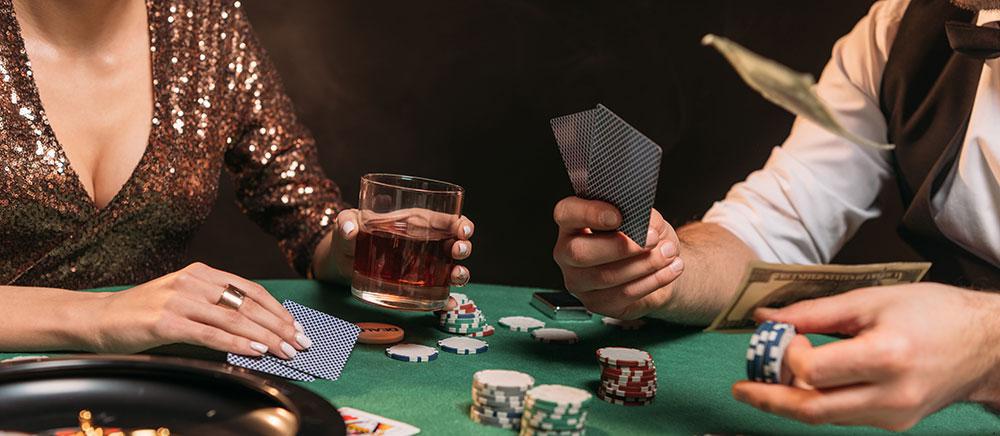 How to Play:
Fill a large bucket with water, and put several saucers inside, floating on the top. Move several feet back. While reclining on your side, using only your right hand, you toss wine from your cup toward the bucket, trying to hit, and sink, the saucers. Whoever sinks the most saucers wins.
Tip:
With your left hand play the mobile version of Achilles to become both the "God of Wine" and a winning epic hero.
What to Bet:
The winner is now the "God of Wine," and may order any of the other players to refill their glass (at least until a new winner is chosen).
Drinks and Materials Needed:
– Saucers (3-5)
– Bucket
– Wine
– Cup
– Probably some paint and refinishing supplies if, for some reason, you chose to play this game that involves throwing wine inside the house.
3)Tiger Has Come – Russia
This game is like a traditional casino drinking game, in that it involves betting money and drinking. It's also a bit more intense. For extra points, play this game with drinks at a casino or bar near you.
How to Play:
Once everyone has gotten their shot of vodka (would you rather drink something other than vodka? Too bad. Vodka only), they place their bets on the table. The game leader yells out "Tiger has come!" Everyone in the group has to get under the table and take their shot. No one is allowed to come back up from under the table until the person who started the game yells out "Tiger has gone!"
More bets are placed after every round.
Repeat throughout the night until only one person can make it back into their seat from under the table.
Tip:
For added fun, play the Tiger Treasure slot on your mobile, taking a spin every time you hear "Tiger!"
What to Bet:
Winner takes all, but it's also up to them to host/lead the next game, as well as supply the vodka.
Drinks and Materials Needed:
– Vodka
– Table
– Stomach pump on stand-by
4) Centurion – The United Kingdom
The Roman Centurions conquered their area of the globe; players of the drinking game, Centurion, get to conquer beer. A lot of beer. This game is known as Power Hour in the United States, often played to celebrate someone's 21st birthday, but there's a difference:
Americans drink a shot of beer every minute for 60 minutes. Brits take a shot of beer every minute for a full 100 minutes.
How to Play:
Pretty simple. Every minute, for 100 minutes, each player takes a shot of beer. No missing minutes, or you're out.
Tip:
To give the game an extra twist, think like Mark Anthony and play the Cleopatra's Gold slot, taking a spin for each drink! Or draw your sword and head to the Caesar's Empire slot and do one gulp, one spin in search of the jackpot!
If you're truly planning to go all out, there are also legends of a version called "Centurion Elite," where players take a shot of beer every minute for 150 minutes, and "The Monarch Centurion," where players takes two shots of beer every minute for 50 minutes. That's getting a bit insane though… what would James Bond think of drinking like that? Everyone knows the man hates recklessness.
What to Bet:
If you're playing this out at a bar or casino, drinks are free for whoever lasts the longest before missing a minute. If you're playing it at home, then just bet on who buys the pizzas.
Drinks and Materials Needed:
– A whole lot of beer. 100 ounces of beer per person, per game.
5) Casino Royale Drinking Game – James Bond Universe
The Bond film Casino Royale re-imagined the classic secret agent character, crafting a grittier, darker super-spy, with fewer gadgets, more brawn, and a life filled with the same amount of drinks and casino gambling.
The Casino Royale drinking game re-imagines the way we do movie drinking games. Because this one requires a martini. (James Bond drinks a vodka martini, but, come on, I think we all know that gin martinis are where it's at. That's right Bond, I said it).
How to play: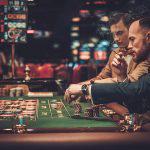 Everyone starts with a martini. Again, it's a Casino Royale drinking game; I don't know what else you were expecting.
Drink when:
– James Bond orders a drink at the casino. Even if it's a vodka martini.
– James Bond takes a sip of his drink. Even if it's a vodka martini.
– James Bond loses a hand of cards at the casino.
– You forget to follow any of these rules.
That's the easy stuff. Next level:
– When you hear the line, "So you want me to be half-monk, half-hitman," every player races to finish their drink.
The last player to finish must speak as M (the Judi Dench version) for the rest of the game, and speak to the winner as if they are James Bond. Accents and everything. And of course, they must reluctantly (and with the sassy elegance of Judi Dench), fetch James Bond drinks for the rest of the game as well.
Final gamble:
Whenever someone asks James to identify himself, the last player to strike a pose and say "Bond, James Bond," must mix new martinis for the rest of the group.
Tip:
For an extra kick, play a hand of Texas Hold Em Bonus Poker every time you take a drink.
What to bet:
If you're in a gambling mood, replace the "drink when you forget a rule" with "when you forget a rule, give $1 to the person who caught you."
Drinks and Materials needed:
– Ice
– Olives
– Martini shaker
– Vermouth
– Gin
– Not vodka; gin. This isn't Tiger Has Come.
There you have it – the world's best drinking games. Just like we don't recommend mixing alcohols in one night, we don't recommend mixing more than one of these drinking games in one night. However, we do recommend the perfect hangover cure for the morning after – log onto Slots of Vegas and play some more casino games with a little hair of the dog as a pick-me-up. It's how James Bond drinks – you probably want to forego the vodka martini, though.
6) Bierkastenrennen (Beer Box Run) – Germany
Ah, the creation of the Beer Run, one of history's most storied events. The first Beer Run dates back to the year 1982 in Munich, Germany, when university students chose to race across campus while each team drank a case of beer.
As soon as the nation found out about this race, they were like, "Oh yeah. We're doing that." Thus, a new tradition was born. By the year 2000, there were annual Beer Runs in the German cities of Cologne, Kirnbergsee, Hurlach, Fulda, Dormagen, Brunswick, Beeskow, and Spreelauf. The sport was so popular, it spread to Switzerland and Austria. And unsurprisingly, it's growing, and there are many versions of the game now around the world. "The Beer Mile" is what they call it in the UK. It's in Australia, New Zealand, and Canada. It's in the USA. Before you know it, you'll be playing it, too. Yes, even you. Even you.
How to Play:
Teams of two, one case of beer. And the races aren't short; they generally range from five to seven miles in length. The beer (a 24 pack) must be drunk before you cross the finish line. If you spill, you are disqualified. If you force yourself to vomit, you are disqualified. There's less clarity on what happens if you vomit against your will, but that probably never happens. Never.
What to Bet:
After a run like that, you probably won't want more beer. So, maybe you and the other racers should wager a nice bottle of wine instead.
Drinks and Materials Needed:
– One case of beer per team
– A partner
– That's pretty much it