Walking into a casino, there are a few clear-cut favorite games for beginners. Slots are a good starting point because there are lots of lights, sounds, and action. And it's completely up to lady luck whether you go home with a fortune or a bankroll in the red. But blackjack, a game that's easy to learn and fun to play, is a great option for those looking to expand their repertoire of gambling.
Blackjack has an incredibly low house edge of about 0.5%. This means your chances of winning the game greatly increase if you know how to play it right. That's why we've put together these 5 helpful blackjack tips and tricks. Read on to learn the table, increase your odds. You'll also increase the potential to win lots of real money in the process.
Blackjack Tip #1: Watch Out for Those Fives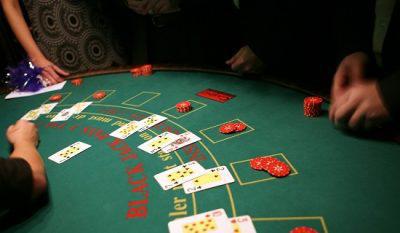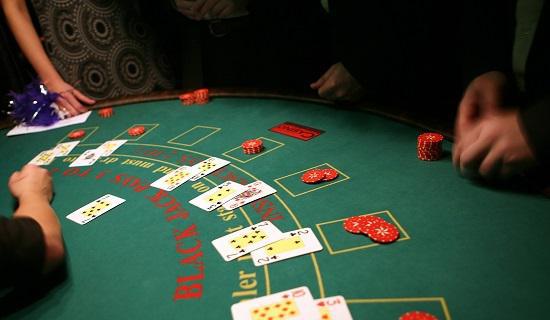 Even if you don't know a single thing about blackjack, this one is easy to remember and can help you in the long run. Five always plays in the favor of the dealer, meaning that it makes your chances of winning smaller. Back in the day, card counting was heavily focused around the number of 5s appearing in the deck. When they were gone, the player would have a much bigger advantage because it adds about a 0.67% return. They naturally increase their bet amount as well when this happens during a game.
Usually blackjack uses 6 decks of cards shuffled in a shoe. So, as the game progresses, if more fives appear than the other numbers left in the shoe , it's better for you and your bankroll.
While this doesn't help much for online blackjack, since they deal out of an unlimited shoe. But you can still practice keeping track of fives before you head for the nearest brick-and-mortar casino. Try out your five tracking game by playing a practice round of online blackjack at Slots of Vegas first!
Blackjack Tip #2: Eleventh Heaven
The goal of blackjack is to get 21 through a combination of values assigned to the cards you are dealt. So obviously, the best hand is 21 and the second best hand is 20. Doesn't take a math whiz to figure that out. But what's the third best hand? Believe it or not, the third most advantageous hand you could get is 11. If you are actually super new to the world of blackjack and don't know how it works, then it'll be helpful for you to know that ten cards are worth 10 points, but so are jacks, queens, and kings.
That means out of a single 52-card deck, 30% of the cards you may be dealt are worth 10 points. If you get a 2-card hand which equates to 11, you should double down if the dealer reveals an up card such as an Ace. By doubling down in this scenario, you win less hands, but your win twice as much as when you hit. So logically it's a good move. If you already have an 11, then you're super likely to get 10 which could result in a winning hand.
Blackjack Tip #3: Insurance Fraud
When the dealer has an Ace that's face-up, you may be offered "insurance". This works out so that you can bet up to half of your original bet. If the dealer receives a 21 or "blackjack", you get paid out 2:1. This sounds like a great deal because you're saving your money. After all, you learned from the previous tip that a hand of 11 has 30% (ish) or IS almost 1/3 more likely to get a 10 to make a total of 21.
But don't fall for the idea of saving your money. Even though there's a decent chance of getting a 10, there's still a 2/3 chance that the dealer won't get a 10. So you're more likely to lose the bet and come out with minus money in the process. Only the most expert blackjack players and card counters tend to place these kind of bets. But for common folks like us whose math skills aren't exactly the best – they're practically useless.
If you absolutely must opt for an insurance bet, ensure the game is using a single 52-card decks as opposed to multiple decks. The house edge on an insurance bet in single deck games sits at about 5.8%. When there are 8 decks in use, this figure jumps up to 7.5%, leaving little odds in the players' favor. If you plan on placing an insurance bet in an online casino – forget it. That's because the dealer shuffles the decks before every single hand. Stick to betting options that boost your odds in blackjack, not destroy them!
Blackjack Tip #4: Know How to Use the Betting System
Knowing when to make big bets and small bets can seriously save your bankroll a lot of heartache when playing blackjack. And the best part is that you can gauge when those times will be based on what cards have been dealt. You don't need to learn how to count cards. Besides, no one wants to study probabilities and other concepts to pull it off anyways. Just keep tabs on what cards have already been taken out of the shoe, because it definitely affects your chances of winning some serious dough.
If lower cards have been mostly dealt, that means there are high cards left behind. Therefore, the cards you are going to get in the coming rounds will have higher values, which definitely plays in your favor. Knowing this, be smart about your bets. If you know good cards are coming your way, bet big and win bigger. Conversely, if you've been getting all the good cards, maybe it's time for a change of strategy. Keep your chips close to your vest and wait for a more opportune time to start making riskier bets.
Blackjack Tip #5: Use a Casino Bonus if Playing Online
No matter which casino game you choose to gamble on, bonuses are one of your greatest assets when it comes to playing online blackjack. Especially if you're not too accustomed to how it works. Make practicing for free a part of your strategy. That way you don't run as many risks when it comes to receiving a lousy hand or making any wrong moves with your cards. This also allows you to get familiar with the different kinds of winning hands available and build up your confidence before you start playing for real money.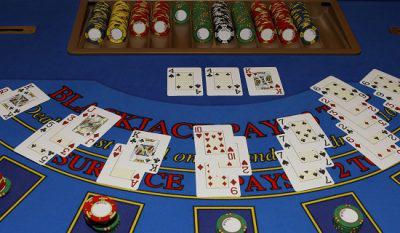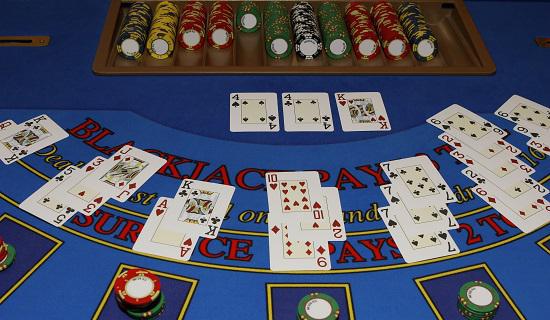 If you do plan on utilizing a bonus during your next blackjack game, you should definitely read up on the terms and conditions for redeeming the offer first. Some bonuses have a minimum playthrough requirement, while others will only work with certain games including their variants. So if you discover a bonus for Suit Em' Up but only have intentions to play 21 or Pontoon, save yourself the disappointment by making sure the bonus can be used on these other games first.
Now that you've got a basic understanding of blackjack, go test out your new skills. Even a few blackjack tips are sure to help tip the odds in your favor! Log onto Slots of Vegas and play some online blackjack today. It takes less than five minutes to sign up. In this game of luck and skill, you'll never know when you will start winning. Take these tips into account and you and you will be well on your way to blackjack success.