I'm a huge video poker fan. I love the fact that I can practice my game and have a blast without having to face off against other players. And I love the fact that it's easy to rack up wins just by making the board. Having a handy video poker strategy chart doesn't hurt either.
Online Poker
If you're new to video poker, it's a lot like regular poker. Except there aren't other players to deal with. As long as your hand ranks, you'll get paid out. In many video poker variations, you'll win as long as you've got a pair of Jacks or better.
The beautiful thing about video poker is that the hand you're dealt isn't necessarily your final hand. You've got the opportunity to toss away up to all five cards for new ones. That means if you're a few cards away from a flush, you can toss away the non-suited cards to improve your chances and hit that rewarding hand. Remember, the more rewarding your hand in video poker, the higher your payout will be.
But knowing how many cards to toss away can feel daunting. You might assume that if you're four cards away from a Royal Flush, you should toss away four cards in an attempt to hit that Royal Flush, right? Well, that's the wrong move. Chances are you won't necessarily hit that Royal Flush if you toss away the big one, so rather than getting rid of the great face cards, you should hold onto four of them and toss away one card. Chances are, you'll hit a high pair or maybe even hit a straight.
The Slots of Vegas Video Poker Cheat Sheet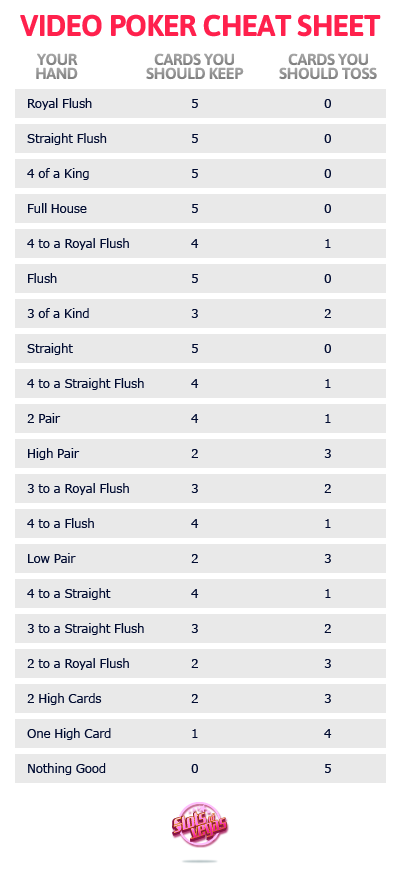 Confused? Don't be. Slots of Vegas management really want people to experience the fun of video poker, so they've put together this handy video poker strategy chart to help you figure out what the keep and what to toss based on common initial hands dealt.
This video poker strategy chart works with Jacks or Better, one of the most popular variations of video poker at Slots of Vegas. But that doesn't mean you can't use it elsewhere. Our video poker experts at Slots of Vegas use this chart for a variety of games, including Bonus Poker, Bonus Poker Deluxe, Double Bonus Poker, Double Double Bonus Poker, and others.
Want to play video poker for free and try this chart out? Create a free Slots of Vegas account and enjoy all the video poker you can handle without even making a deposit. We have tons of players who enjoy the free games with absolutely no desire to play for real money (of course, real cash video poker is always an option). So join us and have a blast.
See also: "THE 9/6 JACKS OR BETTER STRATEGY GUIDE"