Bookmakers in Nevada got good news late last week when Karl Bennison, head of the Enforcement Division of the Nevada Gaming Control Board, announced that bookmakers state wide would now be allowed for the first time to offer wagers on multiple eSports games, opening the door wider on real money eSports betting. Until now, Nevada bookmakers were only allowed to offer bets on a single eSports event at a time.
The Gaming Control Board's decision will now allow bookmakers to register to accept multiple bets, in what is likely to lead to a significant expansion of the state's eSports betting industry.
eSports gaming is defined as multiplayer video games in which professional gamers compete for large cash prizes. Games range from virtual versions of real sports, such as FIFA soccer or Madden football, to popular first-person shooter games (Call of Duty) to multiplayer fantasy world games like League of Legends.
eSport – A massively expanding industry
While it's easy to think of eSports as some sort of super geek phenomena and the realm of a limited few extreme enthusiasts, this couldn't be further from the truth. Over the last few years top eSports games have risen to attract an enormous following. The 2016 world championships of League of Legends attracted a whopping 43 million viewers to watch professionals battle it out for the title. That's 3 million more viewers than tuned in to watch game 7 of last year's World Series, when the Chicago Cubs picked up their first championship pennant in 100 years. Yep, it's bigger than baseball, go figure.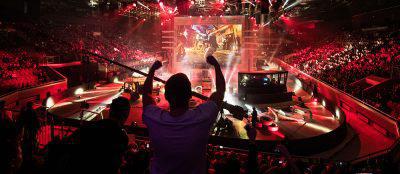 With prize money often in the millions, the burgeoning eSports world is seen as big business for Las Vegas bookmakers. Before the Gaming Control Board introduced the new rules, bookmakers were only allowed to accept bets on a single event at a time. Being able to accept bets on multiple events will significantly expand the bookmakers range of offerings, and is largely seen as a sign that the regulators are becoming increasingly more comfortable with this new sector of the gambling industry.
While speaking at the two-day Casino eSports Conference at the Westgate Las Vegas Resort & Casino last week, Mr. Bennison emphasized that it remained unclear exactly when the new rules would take effect and that his statement precludes a formal announcement of the new rules by the Gaming Control Board.
Mr. Bennison went on to explain to the panel audience that only operators with whom the Control Board was comfortable would be allowed to move forward with multiple-game bets and that the multiple events would all have to be offered by the same company. This move was largely welcomed by the industry, who would no longer have to seek permission to take bets on each separate eSports event.
A complicated legal process
Initial approval for betting on the rapidly expanding industry was first granted by the Control Board in 2016. And, while easy access to regulatory approval for eSports gambling may seem a bit of a no brainer, complications arose due to the nature of Nevada gaming law. Nevada has the proud distinction of being the only state in the US in which betting on traditional sports is not illegal (Delaware is an exception but sports betting within its territory is limited to parlays only). eSports fall into a unique category referred to as "other events" under Nevada gaming regulation 22.120, meaning anything outside horse racing, greyhound racing and athletic events. Bets such as which baseball pitcher will win the Cy Young award or who will be the NBAs Rookie of the Year also fall into this category and require bookmakers to obtain special permission in advance to be able to offer bets.
In his remarks to the audience, Mr. Bennison hinted that the possibility existed for eSports to be removed from the category of "other events", provided they are regulated by a respected governing body. All in all, the move was welcomed by bookmakers seeking to increase casino revenue streams and seen as opening up the potential for other US states to follow suit and create their own regulations.