Craps is quite a cool and incredibly classic casino game played by thousands of people every day around the world. It is however, very common to see people get confused with it at times, and feel a little lost, especially if they are new at it.
The whole idea of the Craps games seems fairly easy for the naked eye, observes can see clearly what the game is about: it is just dice game in which the players make wagers guessing the outcome of the dices roll, or a series of rolls, of a pair of dice. When it starts to get confusing is when start players wagering money against each other (street craps, also known as shooting dice or rolling dice) or a bank (casino craps, table craps) and this is of course when odds payouts appear.
Craps odds payouts is definitely one of the matters that tend to confuse new craps players the most, as there are plenty of matches and odds to revise, no wonder is a bit difficult to keep track of these. At Slots of Vegas we want to make sure our players get reliable and first hand information regarding their game play and we have created this very useful True Craps Odds Payouts sheet to help those who enjoy Craps understand payouts a little more and start winning the big bucks with much smarter game play: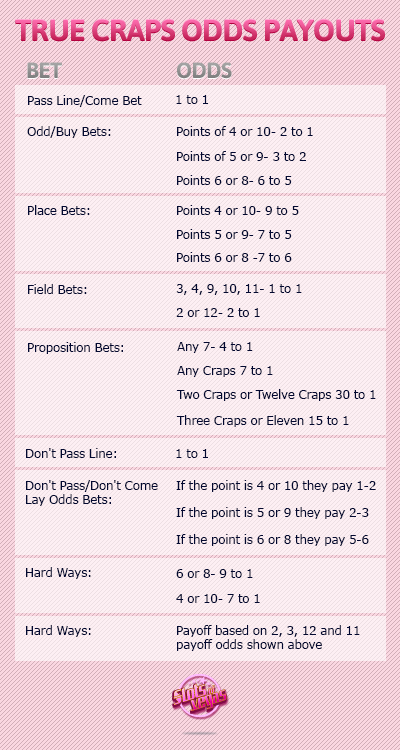 Although there are plenty more bets possible on the Craps game, these are the ones people play the most and therefore get more chances to be used during a game of Craps. Keeping this sheet around while playing at home to practice your game, will eventually prepare you to succeed when you visit a land based casino and beat the house! One piece of advice we can also give you is to play Craps in fun mode at Slots of Vegas while learning how to use this Craps Odds Sheet.
Once you feel you have completely understood how these payouts actually work on every bet, move to real money game play to prove your skills, which will surely improve with the help of this asset.