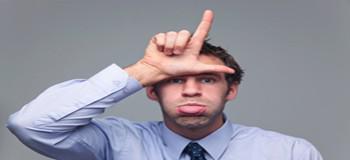 If Christopher Columbus were to participate in our Biggest Famous Loser in History Contest for the chance to win 10K (and avoid having to borrow money from the Queen), I think his best bet would be to write about how, on the hopes of becoming "America's Next Top India Discoverer" he bet all the Queen's pawned jewelry for his trip and ended up in America. Yes, our continent was discovered by accident, (-pretty much like all 15th century pregnancies). He thought to have arrived in India and instead of being greeted with a scrumptious curry dish, the natives gave him a high five and a cup of cocoa or coffee, cause that's what they were having, I guess. We'll never know. We now celebrate Columbus Day as a holiday to commemorate the discovery.
The thing is, history has had its own "Biggest Loser" party for years. Here's the 1st part of a series called "The Biggest Losers in History". Trust us, you'll feel much better about yourself after reading the stories of these losers, especially if you've it lost it all at the casino (or anywhere else for that matter).
1
Biggest Loser #1 – Bernie Maddoff:
Wikipedia calls him a "stockbroker, businessman, investor, investment advisor" which in his case is short for evil, crazy crook. With a Ponzi scheme, the guy abused the trust of his clients, gambled with their money and wiped out clean the stocks accounts of celebrities such as Kevin Bacon, wife Kyra Sedgwick, John Malkovich and Zsa Zsa Gabor as well as the New York Mets owner among hundreds of others. For those without ethics, it sounds like he's winning so far right? Not quite. He got to live 20 years of his life like an Arabian prince on other people's money. The catch is he gets to spend the rest of it behind bars eating veggies and some unidentified brown and white stuff.
2
Biggest Loser #2 The Winklevoss brothers:
They're tall, they're handsome, olympic rowers and entrepreneurs who lost their biggest bet when they decided to hire Mark Zuckerberg (like Tom, only for Facebook) only to have him "allegedly" steal their programming code for a new social network which he then used to create…Hi5.com. Nah, just kidding. He created Facebook. Although Zuckerberg reportedly settled with them for $65 million, with Facebook experiencing a 158% growth in 2010 and an $84 billion net worth in 2011, -and if my math serves me right, I'd say these guys LOST big time, like me at a Pai Gow table after 3 shots of Tequila at 4:30am. Yes, that bad.
3
Biggest Loser #3 Joran Van Der Sloot:
This 24 yr. old, Netherlands native was never a great poker player, neither a ladies' man. You know what he's really good at? Lying, stealing, cheating and confessing crimes and later retracting. The guy was such a loser he'd never won any money at the big poker tournaments he signed up at like the Latin American Poker Tour. What did he win there? Possibly 30 years in prison and a restitution payment for over 70k to the family of Stephany Flores, the woman he allegedly murdered in Peru. He is also the prime suspect in Natalee Holloway's dissapearance. Bonus Points: the guy was also charged with theft (what a winner huh?). Although he may think he's won, outsmarting authorities, he lost the only valuable on this scumbag: his freedom.
If you liked this article, remember, this is only part 1! If you didn't, go ahead and share it, there's always a Facebook wall of someone out there whom you don't like very much that you can fill with spam. Finally, tell us… do you know any other modern-day losers? Who is the biggest loser of all? Spill the beans below in the comments section.