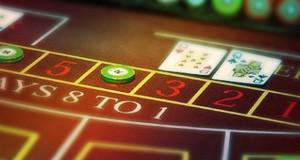 If you're anything like us, you love adrenaline and fast-paced action, and who doesn't? Casinos in essence provide unequaled excitement and fast action, especially if we're talking about playing casino games online. You may be spinning a roulette wheel and crossing your fingers for luck, clicking DEAL on your blackjack table on a separate window, all this, while hitting the spin button at your favorite slot machine –yes, all at the same time. That's the advantage of playing online casino: you can most certainly multi-task. In fact, that is the reason there are so many games available online, pretty much as many as there are in a land based casino. Think of it this way: any game available in a land based casino has his online counterpart but there are a handful that no matter what, you should be able to find at your favorite online casino site on the web and here they are:

1) Blackjack: The game of blackjack can be compared to a Mustang: it is an all-american classic and it is practically mandatory for it to be included in most casino game lineups. There are as many variants of the game as there are card rooms across the world online and off. This is a game of tradition, the game that made it possible for other casino games to exist. We can't bear the idea of not playing a couple of blackjack hands during a casino night.
2) Craps: People love Craps so much they can probably describe the felt layout while blindfolded. This game, which is rumored to be over 1000 years old made its way from Arabia to New Orleans passing through a number of places and making its mark worldwide. Now, it is one of the most popular games at any online casino.
3) Roulette: Could you possibly trust a casino without a roulette table? The game that lets you win or lose lots of money after fate gets decided by a spinning ball, provides players with true entertainment and of course, endless possibilities to win. Hitting your lucky number, or your husbands birthday or how about the last two digits of your license plate, makes you feel like this win was destined for you. Only Roulette knows how to do this and that is why, no Casino could ever conceive not have a roulette table among their collection of games.
4) Baccarat: Although its fancy name suggests eccentricity, sophistication and elegance, this game is rather simple yet very attractive. Players love the idea on betting the opposite hand or the draw or our own hand. This freedom of choice makes this game a delightful stop – without mentioning the generous payouts it is known for.
5) 3 card poker: A great 3 cards combination from a single 52 cards deck is all it takes to experience pure adrenaline while you watch your bankroll grow. This classic game allows a nice probability of return for players positioning itself as the favorite choice for those looking to take a break from roulette, blackjack ore ven slots.
If you have not played these games before, here you have five great recommendations for your next online gaming session. Have we left out your favorite game? Let us know which other casino game should never be missing at any online casino and why do you love it so much!