How did a French tire company corner the market on global culinary excellence? From the shaky beginnings of a 1920s French road trip to the height of judging food, Michelin literally wrote the book on the best food in the world. The famed Michelin Star system makes or breaks chefs and launches or destroys careers. Read on for our list of Michelin Star restaurants in Las Vegas.
Each year, the Michelin Guide rates the best food served by the best chefs in the world. You can buy a guide for almost every major city on earth written by a shadow army of culinary critics. These rambling restaurant raters spend their energy thoroughly researching, testing, tasting, and touting the best.
While there hasn't been a dedicated Las Vegas Michelin Guide since the global crisis in 2008, many Michelin stars sprinkle the desert skies of Las Vegas. Read on, food people; these are the best Michelin Star restaurants in Las Vegas.
The Michelin Man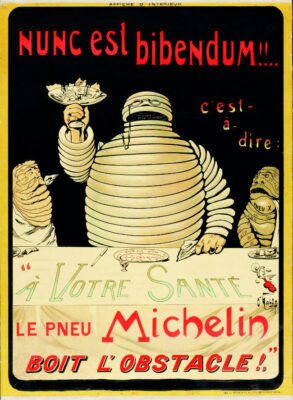 Clever marketing and 100 years of evolution went into the smiling stack of tires known as the Michelin Man mascot. In 1889, brothers André and Édouard Michelin created the Michelin tire company in France. But there were only 3,000 cars on the road at the time. So how could these rubber peddlers put more tires on cars and more cars on the road? Basically, what began as a guide to tire repair and replacement shops across France slowly evolved into a guide to gorging on gourmet grub.
Early adverts show a very different Michelin Man than the one we see today. The early Michelin mascot (called Bibendum in France) sports a pile of white tires for his body and limbs, but he's also chomping on a cigar and wearing pince-nez glasses. This rather bizarre pairing of fat cat aristocrat and friendly tire monster soon became the beloved symbol of a tire empire that expanded globally.
A Star is Born
Michelin guides began rating exceptional restaurants a star for their gastronomic achievements. Soon, the guide added additional ratings to include 1, 2, and 3 Michelin Stars according to the level of culinary excellence. Think of the star system as the culinary Olympics, bronze, silver, and gold in star form.
What does each Michelin Star mean? A single Michelin Star indicates high quality cooking at a restaurant worth a stop. Two Michelin Stars indicate excellent cooking worthy of a detour. Three Michelin Stars are awarded to exceptional cuisine in a restaurant worthy of a special trip.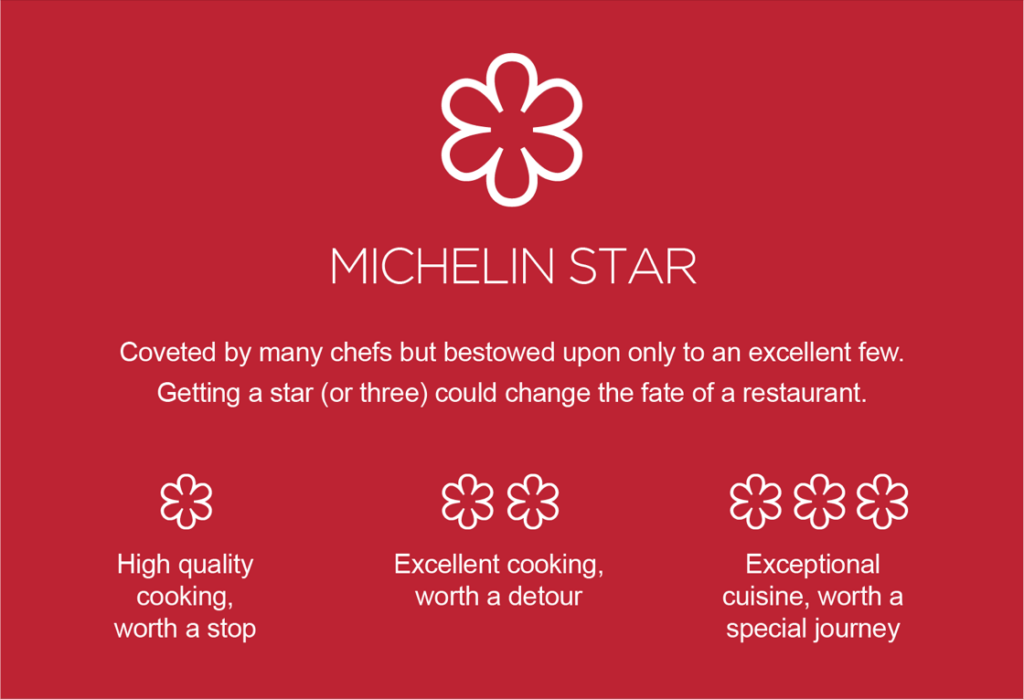 Michelin does not consider the style of food or the price in its rating system. Only excellence, imagination, and the individual personality of the chef must shine through to rate a star. A single Michelin Star can make or break a chef's career and winning 3 stars is the ultimate sign of a master chef. However, the immense pressure brought about by the coveted stars has led to the ruin of many chefs. For example, one chef committed suicide after losing his stars. Additionally, others have broken down weeping at the loss of a single star. Unable to handle the pressure, chef Sébastien Bras requested that Michelin remove his restaurant and his 3 Michelin Stars from its guide.
The Bib Gourmand Rating
Michelin doesn't just rate top chefs; the guide also offers ratings in other important food arenas. The Bib Gourmand (named after Bibendum, the Michelin Man) recognizes exceptional restaurants which offer high quality food at reasonable prices. If you don't fancy shelling out hundreds of dollars for tiny, beautiful food, Bib's got your back. Look for the image of a smiling Bib licking his lips for the Bib Gourmand category.
The restaurant ratings don't stop there. Michelin also rates various sub-categories of dining called 'covers' which are bestowed upon restaurants and hotels for exceptional comfort. Look for the knife and fork symbols for these establishments.
Eating Las Vegas
Vegas has a long history as a food destination. Casino moguls decided early on that gambling alone would not attract visitors from around the U.S. to make the long trek into the Nevada desert sands. Early Western-themed casinos offered gambling saloons alongside generous chuckwagons grilling the best steaks you could find. They even offered pony rides for the kids.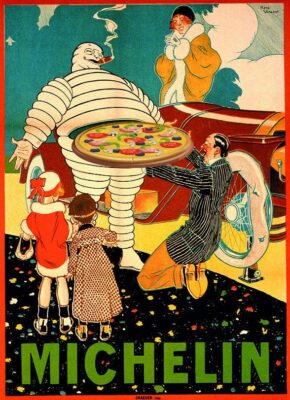 Imagine a time before the mass cluster of high-rise casino resorts and blinding neon glow of Vegas today. Painted signs along the early Las Vegas Strip announced cheap but delicious food and buffets at rock bottom prices. Eventually, Vegas became known for endless shrimp cocktails and bottomless buffets. But today you can find nearly every type of cuisine and dining experience in the world.
Vegas flaunts food and entertains eaters of all types. Whether you want to try to tackle a triple bypass burger at Heart Attack Grill or search for tiny, pretty food with high prices, Las Vegas offers the full range of food options.
For those who view fine dining as an art form, we give you a list of the best Michelin Star restaurants in Las Vegas. In truth, Michelin has not produced a dedicated guide to Las Vegas since 2009. Consequently, there have been no new restaurants added to the star-studded list since then. However, the chefs at the following restaurants are globally renowned masters of the culinary arts, and their glittering stars show no trace of tarnish whatsoever.
Dig in, fine diners.
Michelin Star Restaurants in Las Vegas
For a world class dining experience, each of the restaurants listed below delivers top quality cuisine from renowned chefs. Michelin Stars are given to restaurants and not individual chefs. Therefore, it is possible for a chef to operate dozens of establishments around the world and accumulate stars for each restaurant.
Las Vegas Restaurants with 3 Michelin Stars
Joël Robuchon
Michelin Star Rating: 3 Stars
Address: MGM Grand Hotel 3799 Las Vegas Blvd S
Telephone number: (702) 891 7925
Topping the list of Las Vegas restaurants is Joël Robuchon, located in the MGM Grand. This luxurious French restaurant takes fine dining to the highest level. Elegantly designed to resemble an Art Deco townhouse, prepare for an unforgettable feast of the senses.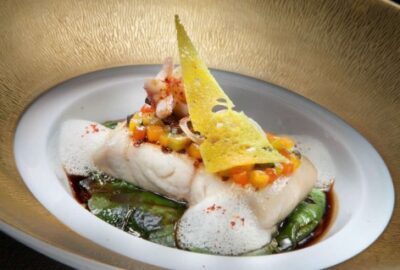 Indulge in the finest dishes like Osetra caviar served atop king crab in a crustacean gelee, dotted with cauliflower puree, king crab and broccoli, and a hard-boiled egg stuffed with king crab. For more seafood, try le crabe royale, with Alaskan King crab with avocado and tomato in the heart of romaine and olive oil.
Chef Joël Robuchon ran many restaurants in his career and managed to accumulate 32 Michelin Stars among them. This record is unbroken today and is unlikely to be surpassed. Unfortunately, Joël Robuchon passed away from cancer at age 73. But he left a lofty legacy of culinary excellence behind.
This master chef received many other awards and accolades. These include the Forbes Five Star, AAA Five Diamond, and Wine Spectator's Grand Award. Gault Millau named Chef Joël Robuchon the 'chef of the century' in 1989. And that's no small praise.
Las Vegas Restaurants with 2 Michelin Stars
Restaurant Guy Savoy
Michelin Star Rating: 2 stars
Address: Caesars Palace 3570 S Las Vegas Blvd
Telephone number: (702) 731 7286
Another fine French dining experience awaits you at Restaurant Guy Savoy in Caesars Palace. Named after the celebrated chef, Guy Savoy offers top quality dining in an elegant environment.
Sample signature dishes like Octopus Terrine, Colors of Caviar and the artichoke and black truffle soup with toasted mushroom brioche and black truffle butter. You can also choose from an ala carte menu or arrange several private tasting menus like the Krug Chef's Table option. Enjoy an intimate view of the kitchen with a sumptuous 10-course tasting menu perfectly paired with Krug champagnes.
Picasso
Michelin Star Rating: 2 Stars
Address: Bellagio Hotel 3600 S Las Vegas Blvd
Telephone number: (702) 693 8865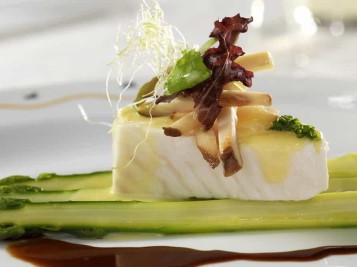 Enjoy the iconic Bellagio Fountain water spectacle from the terrace of Picasso, a classy and elegant dining experience at the Bellagio Hotel. The restaurant oozes classical Mediterranean charm. Naturally, a restaurant named Picasso isn't complete with authentic paintings by Picasso adorning the walls. A 16-table terrace affords grand views of the Las Vegas Strip, and Executive Chef Julian Serrano oversees a menu inspired by French and Spanish cuisine.
Picasso boasts an impressive wine collection of over 1,500 bottles from the finest European vineyards in the world. Menu highlights include roasted Maine lobster with flying fish caviar and crème fraîche vinaigrette and Japanese Wagyu filet mignon with a symphony of vegetables.
Picasso's accolades include Wine Spectator's Grand Award for the best wine list and AAA's 5 Diamond Award.
Las Vegas Restaurants with 1 Michelin Star
Michael Mina
Michelin Star Rating: 1 star
Address: 3600 S Las Vegas Blvd at the Bellagio Hotel and Casino
Telephone number: (702) 693 8199
For a premiere seafood experience, dive deep into Bellagio's second Michelin-Starred restaurant, named after internationally acclaimed Chef Michael Mina. Expect only the freshest seafood, carefully selected and flown in daily on private planes. Dine in the lush botanical gardens of the Bellagio while sampling the finest seafood in the world.
Indulge in fresh raw bar shellfish or Mina's signature caviar selections. Tableside preparation of the finest ingredients makes for a memorable feast that will leave you craving more. Menu highlights include sushi grade Ahi tuna tartare and charcoal-grilled hot shellfish. Additionally, sommeliers pair the perfect wine for each dish. For cocktail lovers, artisan bartenders craft creative cocktails to top off your feast.
Wing Lei
Michelin Star Rating: 1 star
Address: Wynn Las Vegas 3131 Las Vegas Blvd S
Telephone number: (702) 770 3388
Another fine restaurant making the Michelin list is Wing Lei. Wing Lei is the only Chinese restaurant in North America to earn a coveted Michelin Star. Located inside Wynn Las Vegas, Wing Lei serves Cantonese, Szechuan, and Shanghai flavors in a golden environment reminiscent of Chinese jewelry boxes.
Must-have dishes include the tableside-carved Imperial Peking duck and wok-fried Maine lobster. Executive chef Ming Yu expertly oversees and prepares the finest Chinese food from the freshest ingredients. Wing Lei's menu ranges from Chinese classics to exotic creations like crispy Wagyu beef rolls and marinated jellyfish.
Check, Please!
To sum up, dining at Michelin-Star restaurants in Las Vegas will cost a pretty penny. However, when it comes to the finest dining experiences you will ever have in your life, the hefty price tag is well worth the culinary journey.
Obviously, Las Vegas is all about the superlative. Consequently, over-the-top eating is part of the Vegas experience. Whether you thrill at the chase of cash at the card table or crave the finest food in the world served in impeccable style and creativity.
Bon apetit!