The Vegas Strip is notorious for taking advantage of players: learn five ways to turn the tables on them. If you're going on a trip to Las Vegas, chances are you're planning to spend/gamble some money. Don't spend more than you need to. Vegas is set up to bring in an enormous amount of people, which means the smart few can sometimes slip through the cracks.
1) Know the games to play, and practice them
The Vegas Hack:
Most Vegas visitors know that there are Casino games with much better odds than others. But not everyone takes the time to learn which games have the best odds in the house, and how to play them.
Even fewer take the time to learn the strategies behind the games; this is where you can actually reduce the House edge, and increase your odds of winning real cash. So when you step into the Casino, make sure you're ready to head straight to Craps, Baccarat or Blackjack.
Your Advantage over the Casino
The House will generally have some advantage in their casino games, which makes sense: it's how they stay open. The trick is to find the games where the House Edge is the lowest, and learn how to play those games flawlessly in order to make your odds as good as possible.
Craps:
1.4% House Edge (you can even get as low as a 1.36% House Edge if you bet on the "Don't Pass" line). Craps looks intimidating from the outside, but once you start playing you'll find it's not hard to pick it up as you go.
Baccarat:
1.01 – 1.24% House Edge. Due to the success of Casino films like James Bond, Baccarat has a reputation for being both sexy and complex, and if you can master the game, you have some of the best odds in Vegas. The best part is, Baccarat is actually surprisingly simple with just a little practice.
Blackjack:
0.5% House Edge. With Blackjack, it's possible to get the best odds in the Casino. The problem with this is that to get down to that 0.5% edge, you have to be able to play the game perfectly. And that takes a lot of practice.
If you want to read more about any of these games, check out our Strategy Guides. Or practice the games for free online at Slots of Vegas today.
2) Drink for free
The Vegas Hack:
Drinks are expensive! Especially when you're on vacation. However, it's easy to get free drinks all night if you know what you're doing. Drunk people like to gamble, so of course, many Vegas Casinos are happy to help keep their inebriated guests sipping cocktails and beer.
Getting ready for a night on the town? Start off with a few free ones. Don't head to the high-price tables, sit down at the penny slot machines. Tip well, and the waitress will remember to make sure your glass stays full.
If you're not sure your Casino is part of the free drink experience, you can always check with the bartender before plunking down your chips.
Your Advantage over the Casino
This one really depends on what you're going for. If you're in Vegas for some serious gambling, getting drunk just because it's free may not be the best idea. But if you're just vacationing with some friends, having a good time, the free drinks in Vegas can really help add to the experience.
3) The $20 Room Upgrade
The Vegas Hack:
This one is an old classic. Like many such things in today's world, this trick is being phased out in certain establishments, but it's always worth a shot. When you check in to your hotel in Vegas, tuck a $20 bill into your palm and give it to the hotel clerk along with your payment card. This unofficial rule lets the clerk know you're interested in an upgrade: often they will check for you, and give you a potentially incredible room for 20 bucks. Otherwise, they'll hand you the money back.
Remember, Vegas is chock full of great hotel rooms, which means there are often availabilities, and everyone could use an extra $20.
Your Advantage over the Casino
At the end of the day, you're paying for your Vegas experience. If you can get yourself a far superior experience for such a nominal fee, that's an easy win.
4) Avoid physical casinos and play online
The Vegas Hack
A Vegas trip is expensive. There's really no way around that. Once you add up the airfare, the hotel costs, food, drink, cab fare, etc., you may not even have any money in your budget left to gamble with!
If you're really interested in taking the advantages you can and maximizing your bankroll, then skip the trip and play online. Not only do online casinos often offer better odds, they sometimes also include huge deposit bonuses. You can even claim a 250% bonus to play with just for creating an account.
Your Advantage over the Casino
We're past getting that fraction of a percentage edge now; saving the cost of doing a whole trip out to Vegas is a whole new ball game. The best way to take advantage of Vegas is to get the gambling part online, while not having to pay for everything else involved in getting to The Strip.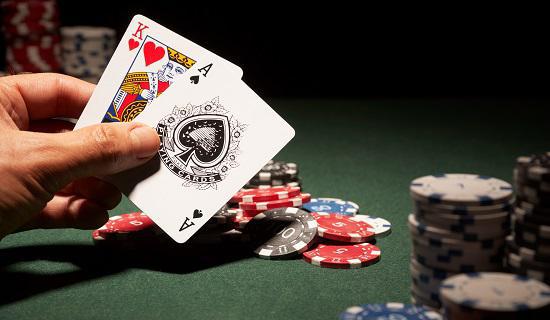 5) Learn to play poker
The Vegas Hack
Blackjack may have the best odds, but poker takes odds out of it all together: you're not playing against the House, you're playing against other Casino guests. Instead of making money from their Edge, the House takes what's called a "rake:" a small percentage of each pot (the money in the middle) goes to the House.
That means that, far from being disadvantaged at the poker table, you can actually have the advantage (as long as you know how to play better than the others at your table).
Beyond the advantage of being freed from the House Edge, the poker table is also a great place to get free drinks! Those games can last a long time, especially if you play a tight game.
Poker is easy to learn and tough to master. It's a matter of being able to read your opponents and know what the odds are of your hand beating what you think your opponents have.
Check out our poker guide for a more in-depth look at how poker works.
Your Advantage Over the Casino:
Now you're not betting against the Casino, you're just giving them a token fee for the privilege of using their establishment as a place to play. Your advantage is now all in your wits, and in the cards you draw.
Don't let Vegas be the one taking advantage. The next time you take a trip to the Strip, remember to be savvy, play the right games, and get your drinks for free. If you want to practice any of the games mentioned in the article, or play some slots, create an account at Slots of Vegas to claim a 250% sign up bonus, and try to win some real cash.
How to take an advantage of Vegas Casinos?
1) Know the games to play, and practice them
2) Drink for free
3) Use the $20 room upgrade trick
4) Make the most of gambling online
5) Learn to play poker