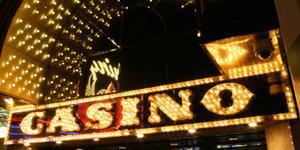 When you think of a casino some ideas are automatically brought to mind: Vegas, Atlantic City, even Monaco for those with a bank account that can support it. The rush of chemicals shooting through your brain and an over-stimulating atmosphere create the perfect setup for a night of good time. The choices seem to be endless and we all like the idea of all the cash we can manage to make while you have fun.

1) The excitement: From the moment you step into the casino floor you are overwhelmed with all these amazing things you can do. Pretty much like a kid when he stands speechless in front of an amusement park. There is a sensation of excitement arousing inside every visitor's head and when this happens when you're in good company or in a winning streak, it cannot get better.
2) The Atmosphere: Lights, music, slot machines announcing a jackpot, all these gorgeous hosts and hostesses just there waiting for you to roll in this magnificently decorated piece of heaven makes the whole casino experience something unique. Everybody is happy and courteous; never shall you stand without your favorite drink for too long.
3) The potential winnings: You know everytime you play there's the same question in everyone's mind: will this be the day when I hit big? Winning a huge jackpot gets exciting when it is displayed in all the TV's and above all the slot machines, or how about holding a potential winning hand in any card game or that unnatural dice roll that will get you an absurd amount of money. The one and only thing you need is to be within the premises.
4) The Freebies: Casinos are pampering in nature, customers will always be the main priority of the staff and this comes with a very neat set of complimentary treats. Most times your drinks are on the house, you will be invited to the buffet and with time these gifts may reach free accommodation, tours and about anything you can imagine.
5) Adrenaline Rush: Very little things can be compared to the emotions you can go through in one gaming session at any casino. Waiting for the dice to land your number or seeing the dealer's hand fall short to your hand in a card game shoots a load of adrenaline in your brain that makes any possible outcome worth the wait. You are in the hot zone and the feeling of excitement is what the games are all about.
Casinos offer a level of entertainment hardly found anywhere else. From the moment you step in you are up for a night of good times and relaxation. Whether you hit the card tables, craps, roulette or slot machines you know you will be expecting great attention and a positive attitude no matter what. This is the true meaning of the casino experience: Having a Great night out and we know you´ve had your share of those!
Tell us your experience or what exactly do you think makes casinos so exciting in the comments section below.