Top 6 Reasons Why People Prefer to Play Online Slots Over Other Casino Games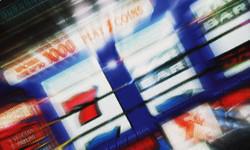 There are all the other casino games, and online casino slots. There's just something magical about them. Whether it is the graphics, the sound: They simply kick butt! From most gamblers we've ever spoken to, we get the very same impression: slots are their favorite casino game. But why? You may be asking. Well, here are the top 5 reasons why casino slots rock:
1Your seat is always available: Day or night, when you play online slots at your favorite online casino, you never have to wait for a seat to become available as it happens when you play poker online at a tournament for example. And thankfully, the internet doesn't operate working hours only. If you can't sleep well or you have a few hours to kill on a Sunday afternoon, you can simply log in and pick your favorite slot machine to try your luck and have some fun.
2
Special unexpected bonus features: Ah! The uncertainty of the unknown: how awesome does it feel when you're playing at a slot machine and suddenly you hit a bonus feature at random that lets you play extra rounds, or gives you free money! That doesn't happen with other types of games. Online slots are the only casino game that actually awards you with an added incentive other than winning by the game rules and that is the surprise factor of winning additional prizes at random.
3
Slot Bonuses: Some online casinos provide special sign up bonuses for those players who particularly prefer to play slots instead of any other other casino games. These are simply special bonuses for slots players that can be awarded to new sign ups or to those who have a track record of playing only certain slot machines at the casino. This is like an extra thank you, for being loyal and for sticking up for what they like.
4
Jackpots: Whether it is a progressive, a guaranteed, or a random jackpot, knowing there's a big amount of money waiting to be hit and get awarded to one lucky player makes it all the more interesting. It is important however that you are always aware of what are the terms and conditions to be awarded with the corresponding jackpot if you were to hit it by playing online slots.
5
Caesar's Empire: He's the most popular Roman character portrayed today – his unquestionable power lead him to conquer several unknown territories with his sophisticated military. Little did Caesar know he'd be remembered in a 5 reel, 20 lines casino slot game.
6
The themes: Let's be honest, online casino software companies get more and more creative each time when it comes to online casino themes. From themes that are based on favorite family sitcoms or paying homage to old tv shows, to themes related to epic characters or times in history that are long gone. We like to reminisce about these things or transport ourselves to a fun imaginary future, like it happens with storytelling, through a sequence of characters and a story line. Online slots, unbelievably, can do the same thing.
So, if you're not a regular online casino slots player we hope this article will help you reconsider or convince you of trying something new. If you do play online casino slots often, then you probably have a couple of good reasons to add. Share them with us in the comments section below: