Pros and Cons of the Craps Fire Bet

Craps is one of the most popular casino table games in the world, and when people discover that there is a new and extremely risky bet making the rounds in Las Vegas casinos, they'll be hitting the craps tables harder and faster than ever. This new and amazing Craps bet is the Fire Bet.
What is the Fire Bet?
The Craps Fire Bet is a brilliant yet risky bet thought up by casino supervisor, Perry Staci.The Fire Bet involves the supposition that the shooter will be able to make 4, 5 or 6 individual points after a point is established. With this bet there are two different pay tables in play. The pay tables pay $25,250 or $1,000 for one, or $10, 200, and $2,000 for one. Understandably there are betting limits; $1 minimum and $5 maximum. With this in mind, a player placing a $5 bet could win either $5,000 or $10,000 depending on the pay table is used.
The Craps Fire Bet, just like any other kind of bet in the Craps layout, has its pros and cons: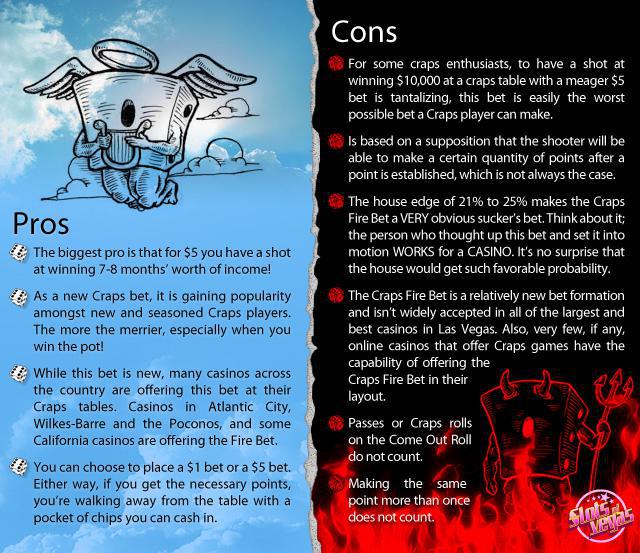 You Decide
Craps is a game of chance which means that the chances of you winning money and the chances of you losing money don't really mean anything when you get right down to it. When you play casino games, it shouldn't be about making a living, it should be about having fun blowing off a little money and some steam having a great time. Should you lay your money on the line for the Craps Fire Bet? Well, you be the judge, but make sure to practice your strategies by playing a few Craps games online at Slots of Vegas.