We're Going to Make the Biggest Loser Our Biggest Winner in 2012!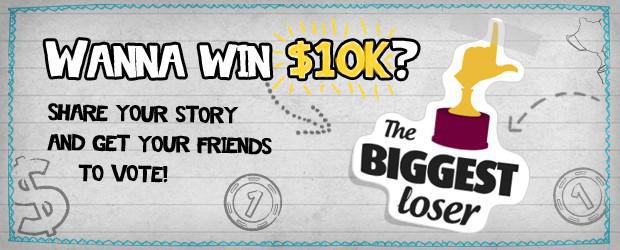 Let's face it; gambling is in most cases a matter of luck, and winning 10 grand is usually something you can only dream about. You win some and you lose some, but for some folks the losing phase never goes away. We all have had those moments when we feel like lady luck has turned her back on us, and in some of us harder than others. And even if our luck isn't as bad as that guy from Japan who lost $127 million in a casino, we still feel like the biggest loser that has ever had the privilege to walk this earth.
Sometimes luck doesn't come so easily, sometimes you have to chase her like some dude from "To Catch a Predator". Well, my point is that sometimes you have to take the bull by the horns and take matters into your own hands. Luckily for all of us losers, Slots of Vegas has come to the rescue with the new contest "The Biggest Loser" that will transform the biggest casino losers into the biggest winners of 2012. But how you ask? Well it's actually pretty damn simple, here's what you have to do:

1
Go to Facebook and like Slots of Vegas. (You can do it here)
2
Submit your biggest loss story. You can take inspiration from the time you lost the chips at the casino or that one time you got so wasted you lost all your wins (Haven't all of us been there before?) Get creative; tell us why you deserve to become the biggest winner.
3
Share your story with your friends. You can share it with your Facebook friends as many times as you want, share it on your blog, YouTube channel, tumblr… The possibilities are endless! The goal is to get as many votes as possible, at the end of the day that's what's going to get you the big prize.
Check out this video, it explains everything in much detail:
What will you get in return? Monthly prizes of $1000 for the 3 Biggest Losers of each month and a grand prize of $10,000 cash for the biggest loser of them all! If you want to make up for your losses of 2011, there's no better time than now. This contest started today and it's going to end by the December 31st, so you have plenty of time to get some votes.
Every week we'll feature the most voted stories here, so that means you'll get even more chances to get votes. The winners are also going to be announced here, so make sure to keep an eye on this, your humble blog.
Are you tired of being called the biggest loser whenever you hit the casino with your friends? Prove them wrong and start 2012 with the right foot! We'll help you win at Slots of Vegas!