Santa vs Rudolph – Join the Battle and Win!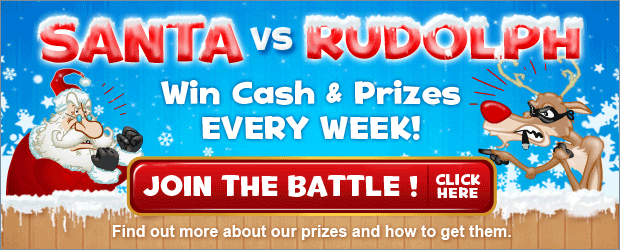 Christmas is definitively a time to give, but wouldn't it be nice if it was also the time to get epic prizes? Fortunately for you, Slots of Vegas Christmas' promo has all of that; with the extra benefit of getting great prizes in the process.
Our Christmas promo basically confronts two of the most beloved Christmas characters for the sake of holiday domination. If it sounds familiar to you, maybe it has to do with the fact that it's inspired by our trilogy of games including "Return of the Rudolph", "Rudolph's Revenge" and "Santa Strikes Back". So if you still feel bitter about that one time you didn't get what you wanted for Christmas, you can punch Santa in the face and get a 310% bonus at the same time. Or if you are one of those who are sick and tired of a certain carol about a genetically modified reindeer, now you can see the sucker suffer, all for the sake of Christmas spirit.
Tell me More! How does it Work?
Participating is really simple. The first thing to do is to create an account on Slots of Vegas, in case you don't have one. The next step is to choose your team, Santa or Rudolph. Once you choose your team, you can redeem their bonus codes which are SANTA310 and RUDY310 respectively. These bonus codes are your way to vote, so you can redeem your team's code as many times as you want.
Each time a coupon code is redeemed, a vote is added to your team. According to the number of votes your team has, new (and more rewarding) prizes will be unlocked for that particular team. Players can check the number of votes here.
Ok, so what about the prizes?
Even if we take an ultra violent approach, we're still talking about Christmas here, so the prizes better be good. To begin with, you get a 310% bonus code, regardless of the team of your choice. After that, you get the chance to get a 50% cash back bonus, a $500 Free Chip and even more prizes.
Sounds good right? And those are not even all the prizes! You can still get into the MVP Hall of Fame, where the top three voters are going to receive a special prize every week. Some of those additional prizes include an Apple touch, gift cards, jewelry and much more. Once again, if you want to check if you have made it to the top 10, you can do so in the promotion's page.
So, choose your team and vote for your favorite, the destiny of this epic Christmas Battle is in your hands!